Google Drive is one of the reliable online storage places on the internet. One of them is its ability to embed a wide variety of documents including audio. To embed audio in Google drive is also very easy and simple. This will be very useful for those of you who want to share music, or your creative work in the audio format which after embedding will be able to be played by people without having to log in first.
Amazingly, Google Drive itself is a free service for every Google account owner. With the free version we can upload various files including audio for 15 GB. With 15 GB we think it's more than enough if it's only used to embed audio. But before you use Google drive to embed audio, it's a good idea to know that Google drive can only play audio with the following extensions.
Audio File Formats that Support in Google Drive for Live Play
.MP3 (MPEG-1 Audio Layer-3)
.MPEG (Moving Picture Experts Group)
.WAV (Waveform Audio File Format)
.OGG (Ogg Audio File)
.OPUS (Opus Audio File)
Once you know what audio files are supported to be embedded and played using Google Drive. Now we will guide you how to embed audio files in Google drive by directly using the Google drive link or using an embed code that you can install on your own website.
How to Embed Audio in Google Drive
1. Sign in to Google drive first in https://drive.google.com/.
2. Upload an audio file, here we will try to upload a .MP3 file. For how to upload files on Google drive please click New > File upload, or if using Google drive on PC you can right-click and click File upload.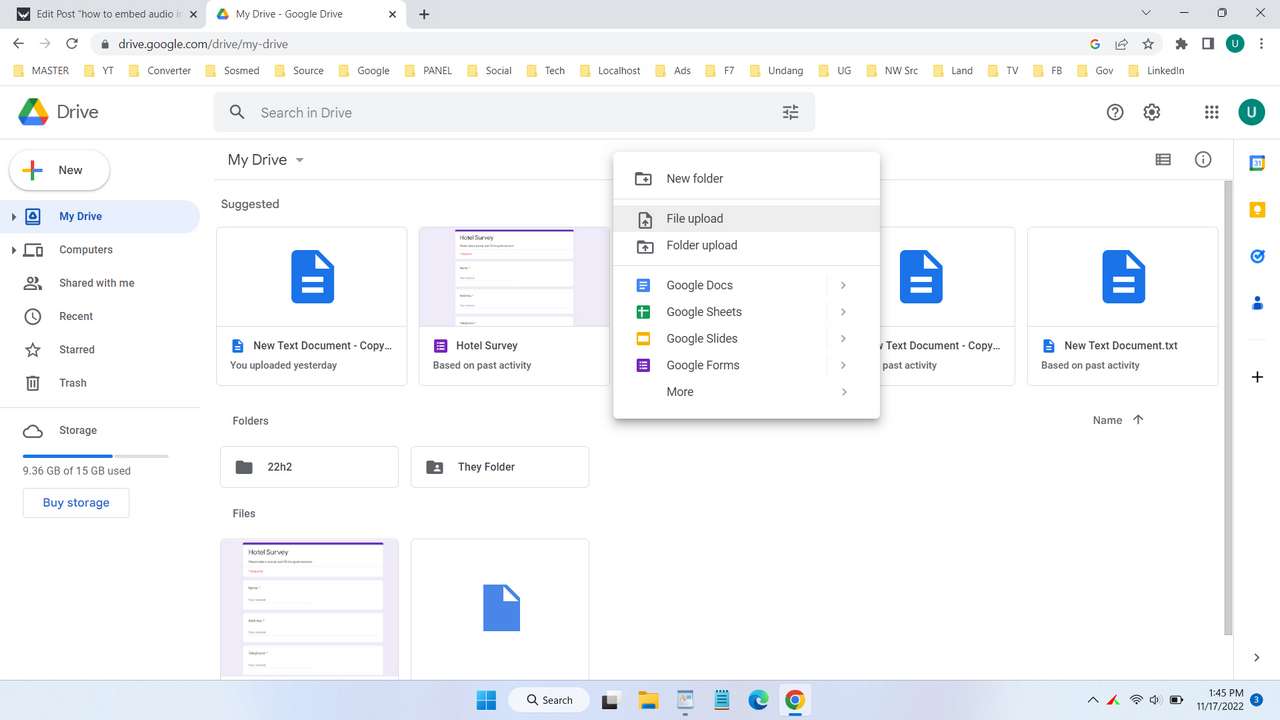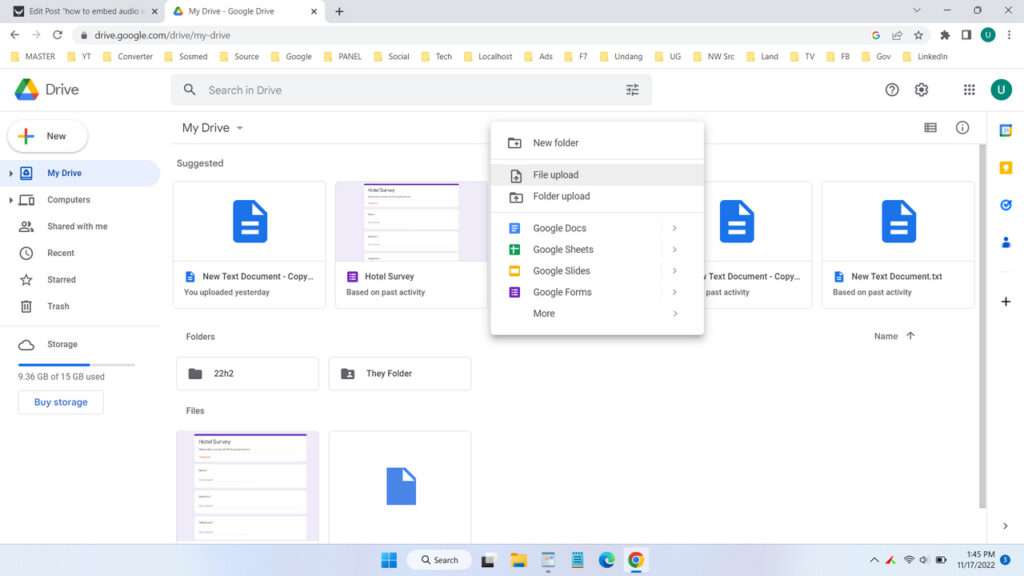 3. Select your audio file then click "Open". Wait for the upload process of your audio file to complete.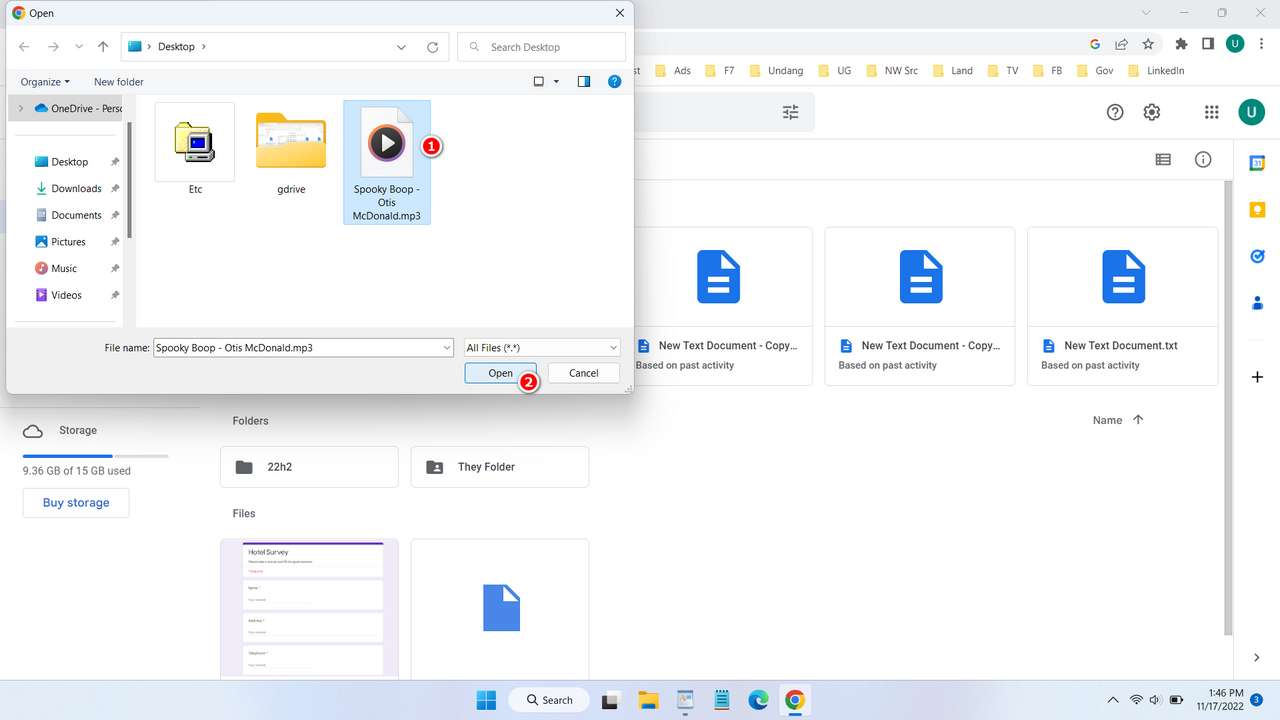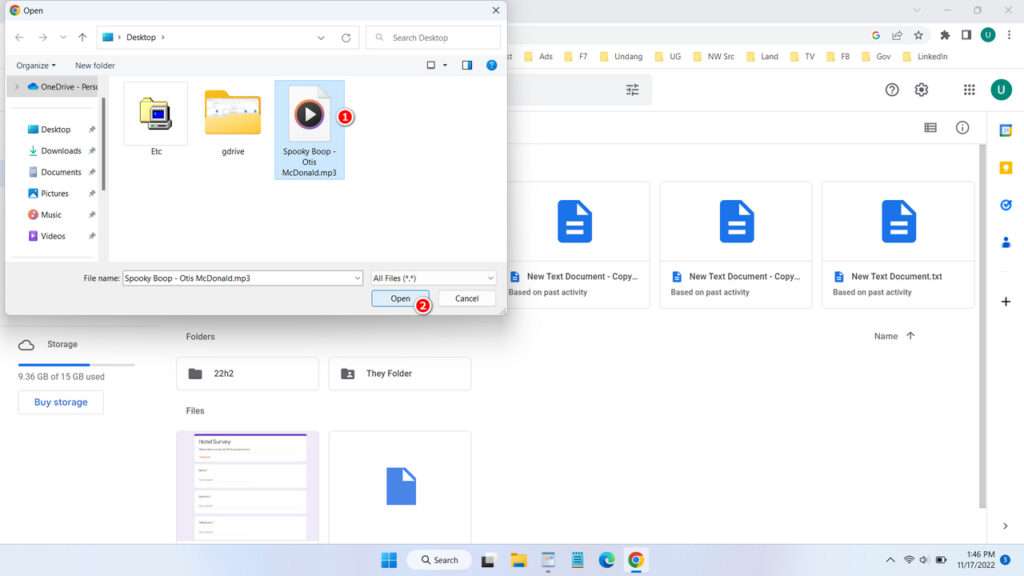 4. If your audio file has been successfully uploaded, please right-click on your audio file and select "Get link" option.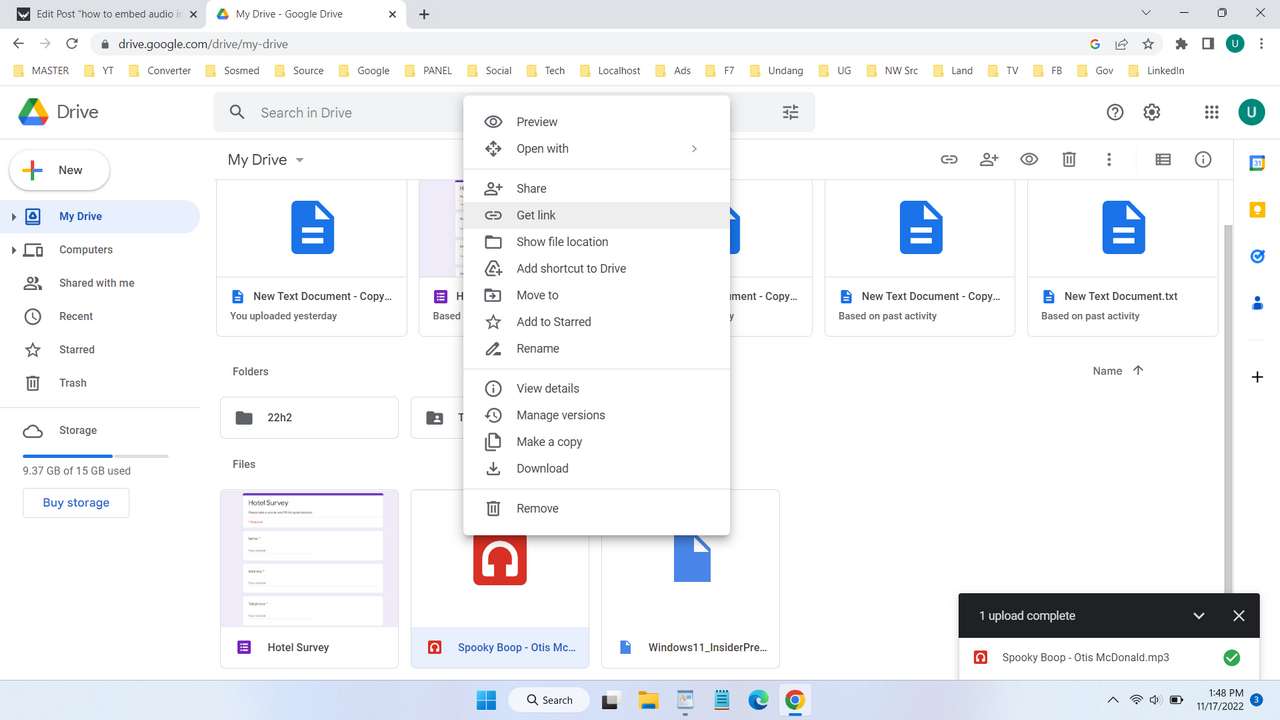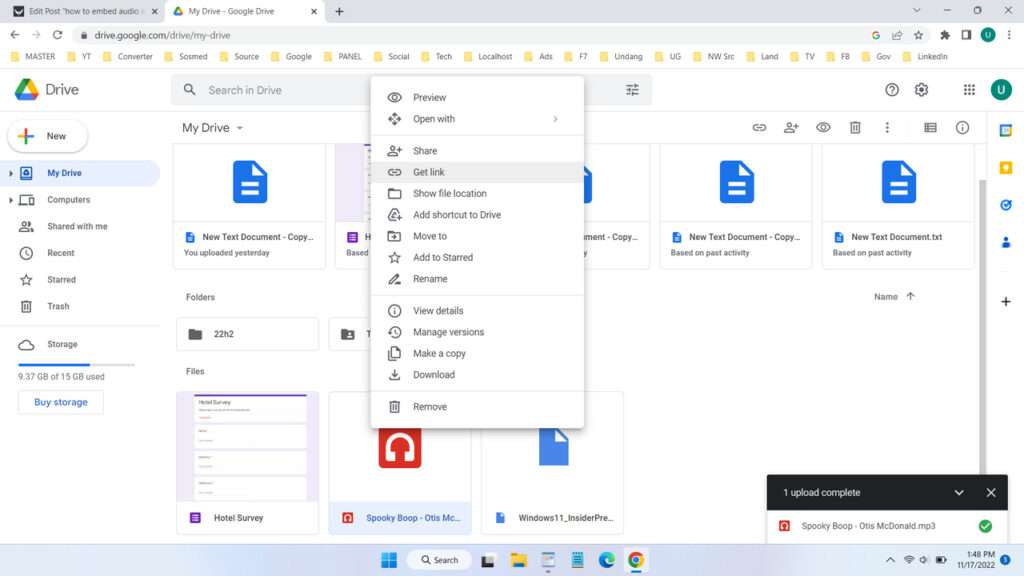 5. On "General access" select "Anyone with the link" then click "Done" button.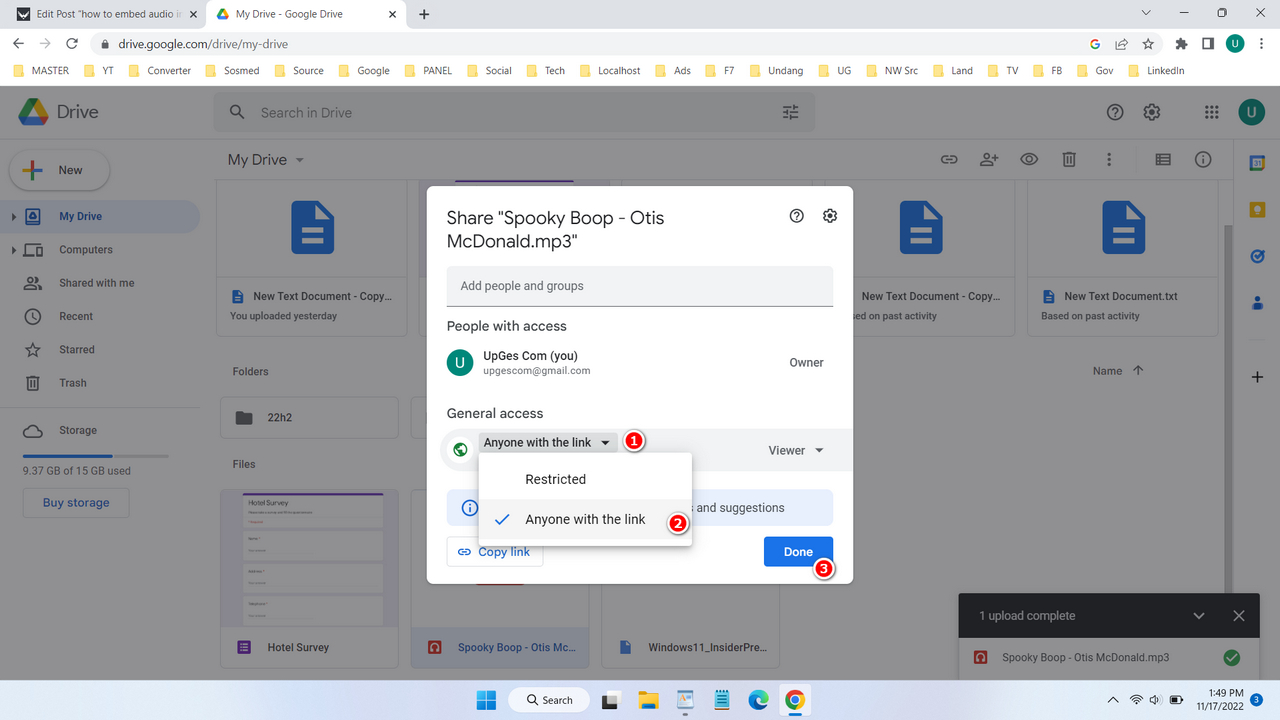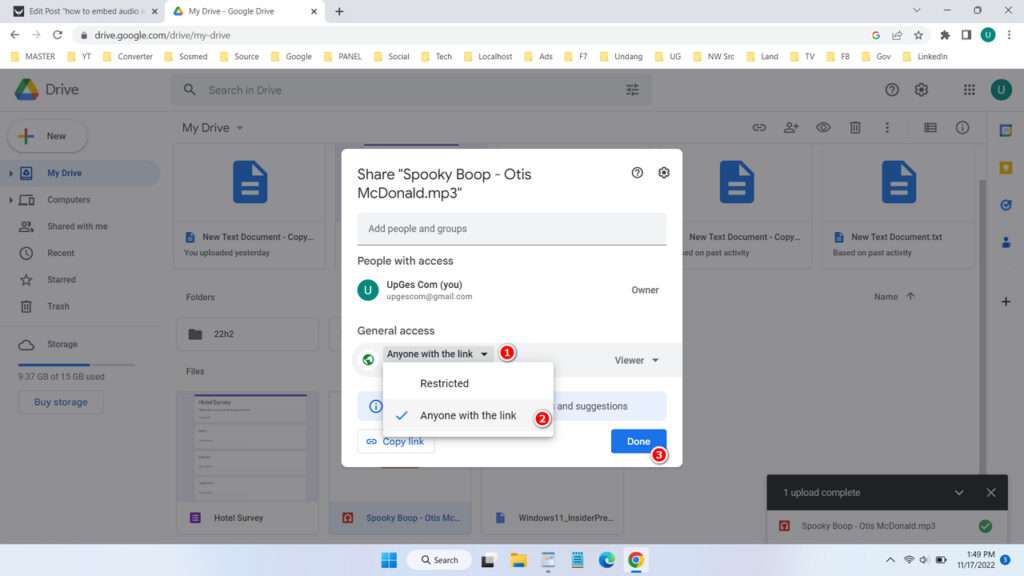 6. To get the link, please right-click again on the file, then click Get link > Copy link.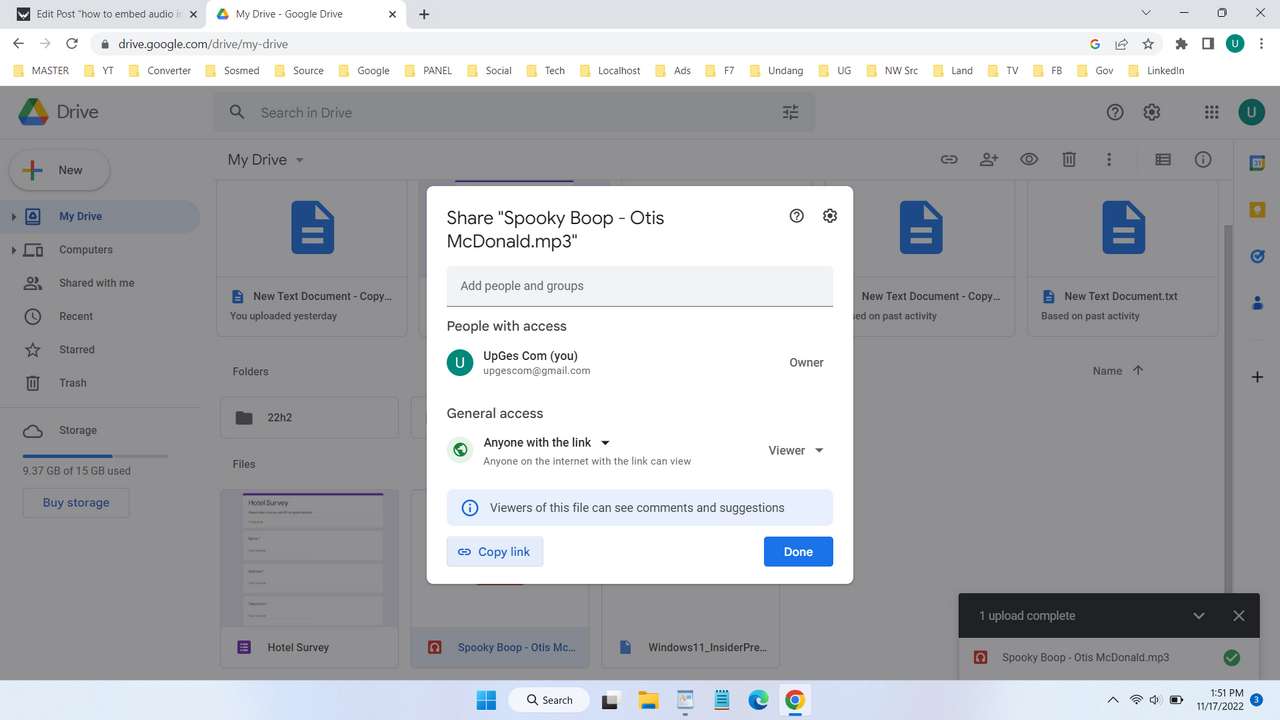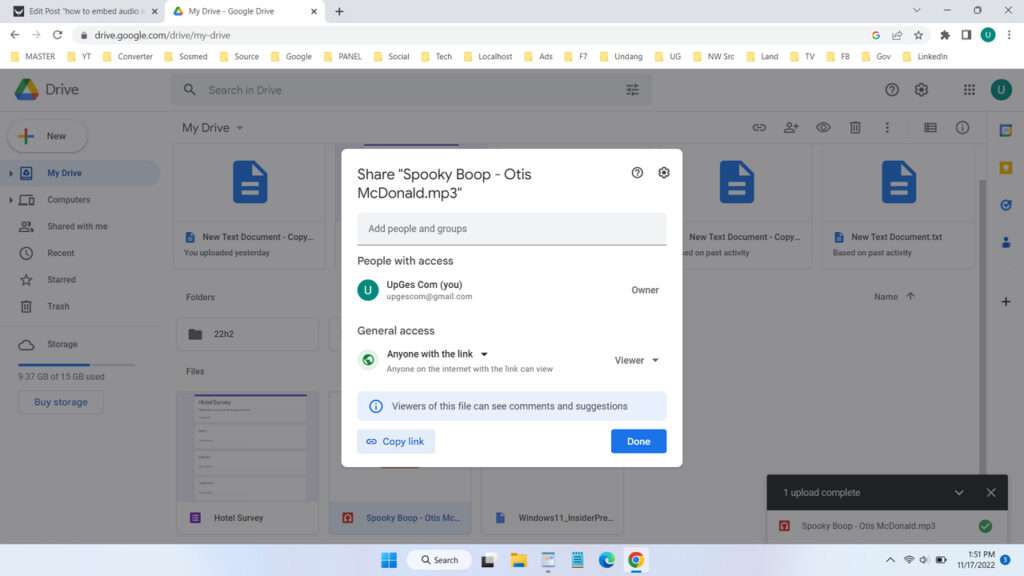 7. You have successfully embedded the audio file in Google drive and can share the link to your friends, your friends will instantly be able to play the audio you shared without the need to log in and without the need to download it. But if you want to embed it on your own website here's how.
For example your Google drive audio link: https://drive.google.com/file/d/1d-is_rSZ96b82WUZATEBTDsBLsSepmf3/view?usp=share_link
Please open the link, then click the 3 dots menu (…) in the upper right corner and select "Embed item" option. Then you can copy the code, and place it on your own website.
Sample audio embed code in Google drive:
<iframe

 

src="https://drive.google.com/file/d/1d-is_rSZ96b82WUZATEBTDsBLsSepmf3/preview"

 

width="640"

 

height="480"

 

allow="autoplay"

></iframe>



Embed audio results in Google drive:
That's the guide on how to embed audio in Google drive. So that it can be directly played when shared and opened. Then what are the advantages of using Google drive to upload audio? Here we will describe in the Pros and Cons section.
Pros
Free Google drive service
The connection is quite fast because it is hosted on a Google server
Quite safe because it is managed by Google
Storage is quite large 15 GB
Cons
Not too many audio extensions supported
In some browsers it may not work properly
FAQ
If the audio file extension is not supported what will happen?
You can still upload files and share them, but play features won't work, so you'll need to download them first and play them on your own device.

Will audio files uploaded on Google Drive be deleted?
No, as long as you don't delete the files and Google is still operating the Google drive service then your audio files won't be deleted.

Will the direct play method always work?
No, sometimes in some browsers with strict security such as Safari web browser from Apple this cannot be done before receiving approval from the user.
How to Embed Audio in Google Drive in Video
If you have trouble applying a guide on how to embed files with audio formats in Google drive, we also provide you with a guide in video format that you can watch below.