Typically backup data means all necessary data for the workloads your server is running. This can include documents, media files, configuration files, machine images, operating systems, and registry files. Essentially, any data that you want to preserve can be stored as backup data.
In an increasingly digitized business landscape, data backup is vital for the survival of an organization. You can get hacked or ransomed, and lose your data to thieves. It can take years to build a reputable brand — and minutes to destroy it. Can you recover from data loss?
The Importance of Enterprise Backup Solution
To understand the potential impact of disasters on businesses, and the importance of having a data backup strategy as part of a complete disaster recovery plan, consider the following statistics:
Cost of downtime – according to Gartner, the average cost of downtime to a business is $5,600 per minute.
Survival rate – another Gartner study found only 6% of companies affected by a disaster that did not have disaster recovery in place survived and continued to operate more than two years after the disaster.
Causes of data loss – the most common causes of data loss are hardware/system failure (31%), human error (29%) and viruses, and malware of ransomware (29%).
You can set up a flexible data backup operation, using a reliable backup tool. Today, here's an enterprise backup solution to help you calculate costs, avoid data loss, and keep business continuity.
AOMEI Cyber Backup for Enterprise Backup
Choosing the right backup utility can help ensure that you are creating the best data backup plan for your needs.
AOMEI Cyber Backup is an efficient enterprise backup software that offers centralized management for VM data protection on both VMware ESXi and Hyper-V.
Its vendor company, AOMEI Tech is a data insurance leader in backup industry, focused on providing user-friendly and affordable backup software for data protection on different platforms, including PC, smart phone, and servers, etc.
AOMEI Cyber Backup supports both paid and free versions of VMware ESXi 6.0 – 8.0, as well as Hyper-V in Windows 7/8/8.1/10/11, Windows Server/Microsoft Hyper-V Server 2008 R2 and later versions. You can choose to install this VM backup software on either Windows or Linux system.
It simplifies the backup process and present the steps with an intuitive GUI interface. You can backup single or multiple virtual machines on free ESXi host or Hyper-V, or even large amount of virtual machines managed by vCenter Server.
The Benefit of AOMEI Cyber Backup
AOMEI Cyber Backup utility has proven itself to be a user-friendly, powerful, enterprise level backup solution that offers comprehensive automated backups designed to scale to meet your business needs, while remaining easy to manage and fast to restore.
Centralized management from a single interface
Agentless VM backups (Hyper-V and VMware vSphere)
Complete image-based backups
Storage-saving backup cleanup
Backup of running virtual machines
Incremental Hyper-V backups
Restore to dissimilar datastore/cluster/host
Role Assignment
AOMEI Enterprise team of backup experts are like an extension of your IT department, stepping in to help ensure that your enterprise backups are secure and you are able to quickly bounce back from any disaster scenario.
Let's take VMware ESXi backup as an example, the benefits can be presented in backup process as the following.
Schedule VMware ESXi Backup Solution Easily
To back up the VMware ESXi VMs, before you start, you will need to bind the standalone ESXi host/vCenter Server host for authorization. Once authorized, you are free to manage the protection of all VMs on the host without installing an agent on each of these VMs.
Then you can cover multiple virtual machines on standalone VMware ESXi host or large amounts of VMs managed by vCenter covered in one backup task.
Click Schedule you can Create full/differential/incremental backups and automatically run it daily/weekly/monthly. With upgraded edition you can also perform Cleanup to auto delete the outdated backups.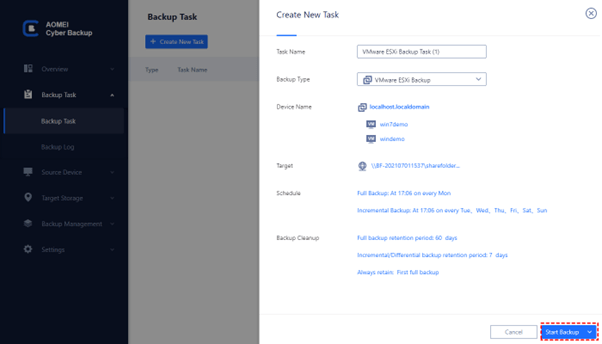 Created backup tasks will be listed and monitored separately, for later restoring, progress checking and schedule changing.
A good backup schedule ensures minimal data loss and multiple restore points, and you can restore the entire VM from any point you like. In addition, you can select to Restore to new location. In this way, you can restore the entire VM as a new cloned VM to another host.
Summary
For most enterprises, a reliable VM backup solution cannot just reduces the management time of large-sized virtual environment, significantly improves backup efficiency, but also helps monitors the data health of virtual machines at all times, so that data can be restored in time and minimize business continuity.
Maybe you like it too?