Epson TX200 resetter is a software adjustment program used to reset the Epson Stylus TX200 printer. By using this resetter software, you will be able to fix errors in the printer that bring up the error message "Service required", so that your printer will be able to be used to print documents again.
This "Service required" error message occurs when the Waste ink pad counter on the Epson TX200 printer is full, so the printer advises you to take it to the Service Center for regular checks, although in fact this problem can be solved by yourself for a while as by using the resetter software/adjustment program for the Epson Stylus TX200 printer.
About Epson Stylus TX200 Printer
The Epson Stylus TX200 is an all-in-one printer, scanner, and copier. It uses Epson's Micro Piezo AMC print head technology and offers a maximum print resolution of 5760 x 1440 dpi. The printer is capable of printing on a variety of media types including plain paper, glossy photo paper, and even CDs and DVDs. It also features a 2.5-inch color LCD screen for previewing and editing images before printing.
How to Reset Epson Stylus TX200 Using Resetter (Adjustment Program)
Temporarily disable all antivirus installed on your computer, including Windows Realtime Protection and Tamper Protection if you are using Windows 10 and Windows 11. This is to prevent the antivirus from making a detection error and deleting your resetter software.
Download Epson TX200 resetter here.
Extract the resetter file that you have downloaded, then open the resetter folder and run the "EpsonTX200-TX209Resetter.exe" file by double-clicking it.
Then a popup will appear, click the "Resetador" button. Continue by clicking "Accept".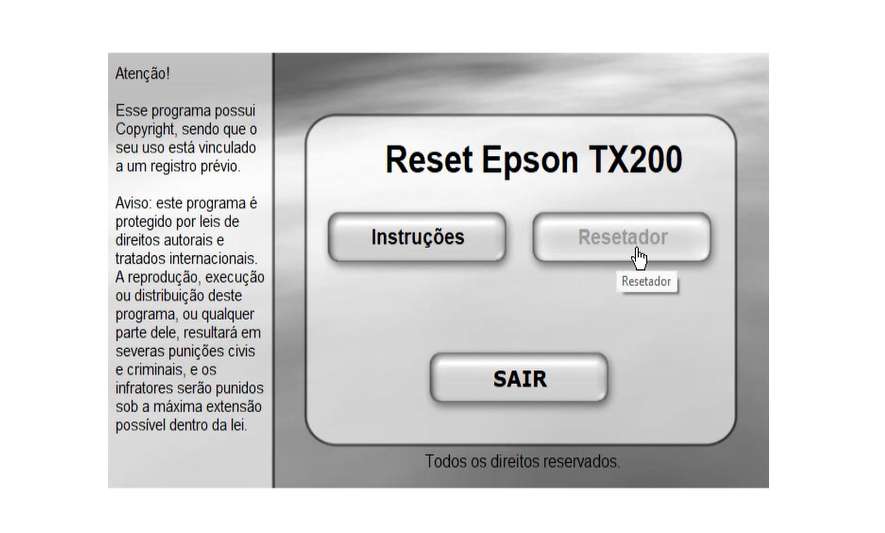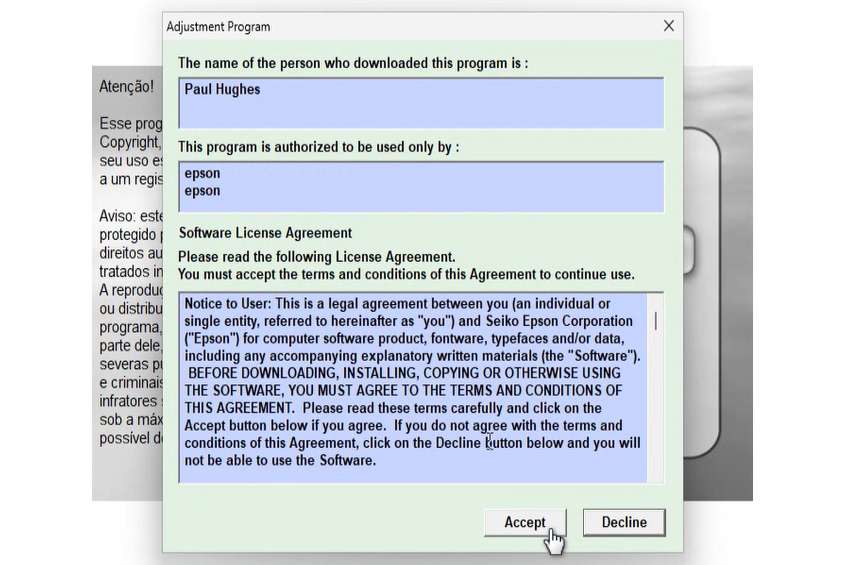 Then you can click the "Particular adjustment mode" button. Select "Waste ink pad counter", then click "OK".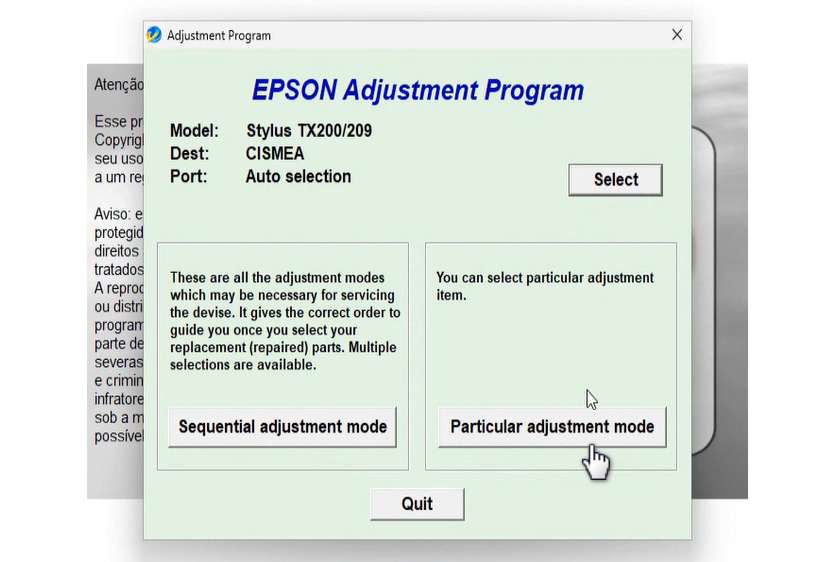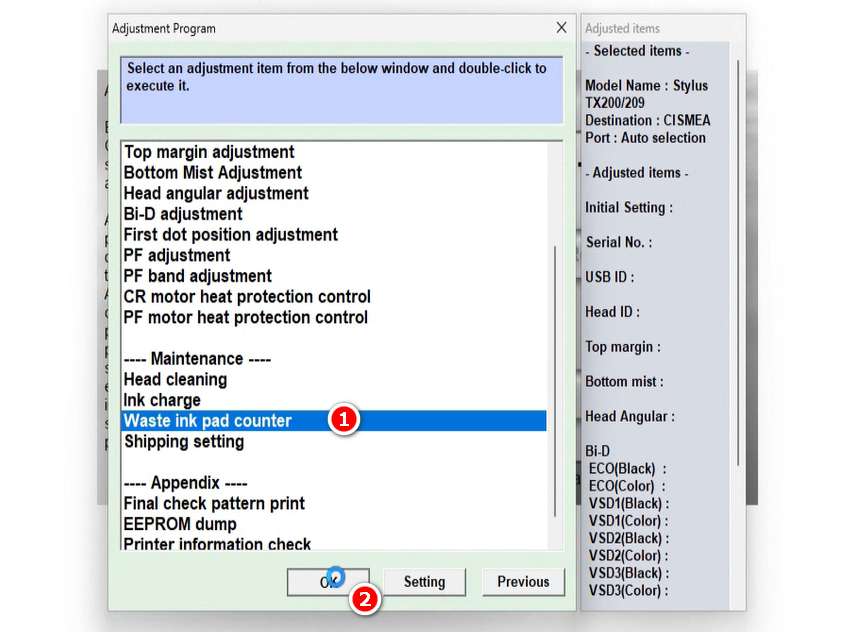 Check the "Main pad counter" option. Then click the "Check" button, continue by clicking the "Initialization" button. When you're done click "Finish".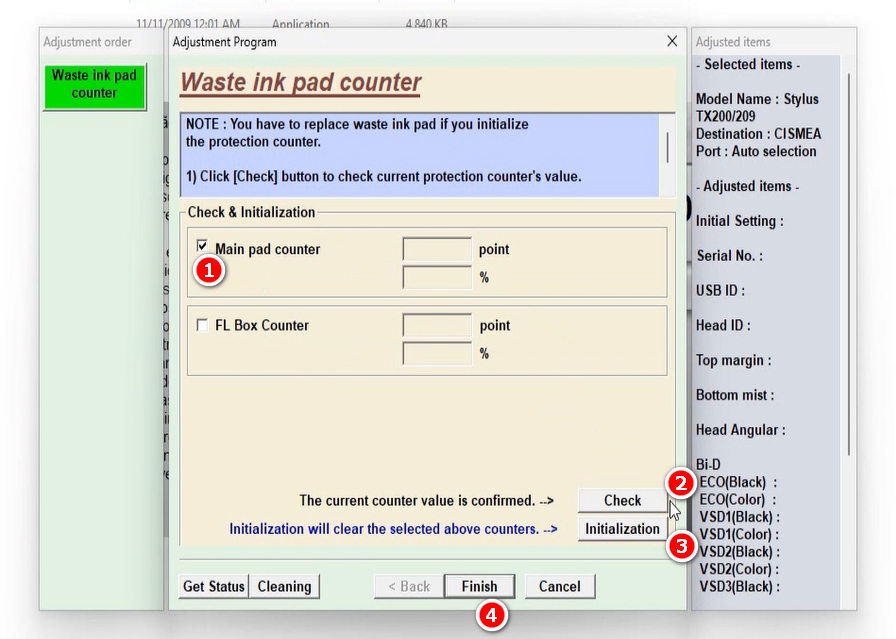 If an error occurs you can repeat the steps to reset the Epson TX200 printer and try to use another USB port available on your PC.
After you successfully reset the printer you can turn off your printer then you can turn on your printer again.
FAQ
Q: Why did the printer fail to reset?
A: Make sure the printer is connected to your Windows PC and the printer is on. You can also try moving it to another available USB port on your PC.
Q: Can the resetter be run on MacOS operating system?
A: No, you can only run the resetter software on Windows operating system.
Q: Does the printer need to be turned off after a successful reset?
A: Yes, to eliminate the error message you must turn off the printer so that you can use the printer again.
That's a guide on how you can reset the Epson Stylus TX200 printer using the resetter software/adjustment program. For those of you who want Epson TX200 resetter you can download it through several servers that we provide below.
Epson TX200 Resetter Download
Resetter: Epson Stylus TX200-TX209 Printer
Size: 4.57MB
OS: Windows 7/8/10/11 or above
How to Reset Epson TX200 in Video
For those of you who are still having trouble resetting the Epson TX200 using a resetter, perhaps it will be easier to understand if you see the guide in the form of the following video.
Maybe you're interested too?