Why do we need to access remote computer?
Accessing a remote computer means that you can use the computer on the other side from the place you are.
You can always stay connected to your work even if you are home or somewhere else without going to your office, which is beneficial to work-life balance and efficiency. If you are an IT professional, you can offer your customers assistance on time as you don't need to arrive at the scene physically, saving your time and improving cutometer's satisfaction.
All in all, remote computer access improves work efficiency and makes our lives more convenient.
Stable and secure Remote desktop software for remote PC access
To connect to a remote computer, remote desktop software is indispensable. If the remote PC and your local device are using the same network, you can use Windows Remote Desktop to complete the access without downloading a third-party remote desktop app.
However, there are many occasions when the remote PC and your local device are under different networks. Thus, AnyViewer, a secure and fast remote desktop software that enables remote connection over the network, is highly commended. Its advantages and disadvantages are listed below, and you can have a look.
Advantages of AnyViewer:
Risk-free: ECC, a strong encryption algorithm is adopted to protect data safety during remote sessions.
Easy-to-use: The reasonable and intuitive graphic user interface makes it's ultra-easy to operate even for the one who has never used the app.
Stable connection: It offers a stable remote connection without dropping and disconnection.
File transfer: It supports fast file transfer during remote sessions or without running a remote session.
Mobile devices supported: You can use AnyViewer on Android or iOS devices to connect to PC; thus, you can access and control PC without carrying a heavy desktop or laptop.
Free version offered: It offers a free version, which can satisfy most demands of remote access, like unattended remote access.
Multiple monitors supported: AnyViewer supports accessing a multi-monitor computer. You can choose all monitors or one monitor displayed on the window.
Disadvantages of AnyViewer:
The number of assigned devices is limited: AnyViewer Free version supports only 3 assigned devices to one account for one-click control.
File copy and paste isn't supported: File transfer is supported while file copy and paste between remote computer and local computer isn't' supported.
Limited OS: It isn't compatible with Mac and Linux platforms.
How to use AnyViewer for remote desktop access
AnyViewer can be your right choice if you want to get remote access to a Windows desktop from a Windows, iOS or Android device. You can get into detailed steps on how to use the remote desktop software for one-click control of a remote PC from a local device.
Step 1. Go to the AnyViewer official website, download it and install it on both devices.
Step 2. Run the app. Create an AnyViewer account on the app or on the official website and then log in to the same account on both devices.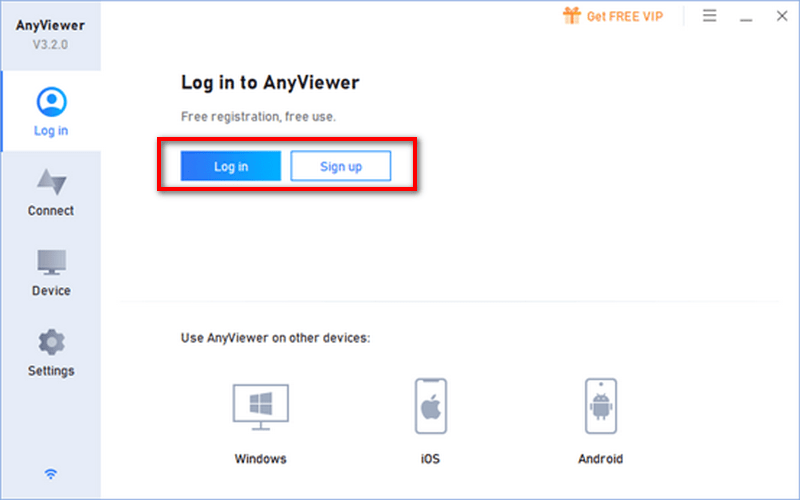 Step 3. Make sure that the remote PC and your local device are connected to network. On your local device, go to Device, locate the remote PC on My devices list.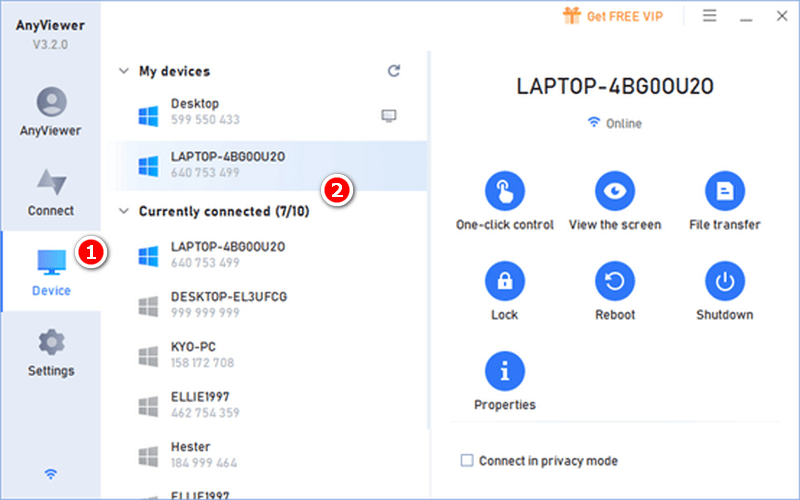 Step 4. Click it and click One-click control. Immediately, you can get connected to the remote computer from your local device and use the remote PC as you want.
Notes:
Only when the two devices are assigned to the same account and log into the same account, you can start one-click control between them.
You can disable one-click connected to assigned device, if you don't want the device to be accessed with one click from Settings > Unattended.
Wrap things up
Surely you have realized how to use remote desktop software – AnyViewer for remote computer access. Actually, it offers not only the way aforementioned to access remote desktop/laptop. It also enables you to access a remote computer via security code or sending a remote control request. You can choose a proper way under difference situations. It also allows you to chat with the one on the other end to facilitate the process of resolving technical issues on the remote computer.
---
Maybe you like it too?