Intel is set to reveal its 14th-generation Core processors in the upcoming week, followed by their availability for purchase the following month. While much anticipation surrounds this launch, early information about these processors hasn't been particularly exciting. According to various leaks, it appears that the higher-end models within this lineup might offer noteworthy enhancements compared to their predecessors, potentially raising hopes for a significant performance boost.
The forthcoming release of Intel's 14th-generation Core processors is generating considerable anticipation in the tech world. Although there hasn't been a wealth of impressive information thus far, leaks suggest that the lineup's top-tier models could deliver substantial improvements when compared to their predecessors. This has created a sense of cautious optimism among enthusiasts who are eager to see how Intel's latest offerings will fare in terms of performance and innovation.
OneRaichu, a well-known leaker in the tech community, managed to obtain an Intel Core i9-14900KF and has shared valuable insights through two Geekbench reports for this upcoming 24-core CPU. Additionally, another user, whose identity remains undisclosed, has posted a result that aligns closely with the previously disclosed data. On Geekbench 6, the Intel Core i9-14900KF exhibited impressive performance with a single-core score of 3347 and a multi-core score of 23051. These numbers indicate a notable performance boost of approximately 10 to 12 percent when compared to its direct predecessor, the 13900KF, potentially signaling exciting prospects for users in search of enhanced computing power.
In recent testing, all three trials were conducted on an ASRock Z790 Taichi motherboard, utilizing DDR5-7000 memory. However, the specific power plan used during these tests was not disclosed, leaving some gaps in our understanding of the overall performance gains of the new generation of processors. It's essential to note that the absence of this information contributes to a lack of a comprehensive view of the processor's capabilities and potential optimizations.
Earlier this month, a Geekbench test revealed that the non-KF variant of the i9-14900K exhibited modest performance improvements when compared to its 13th-generation counterpart. In this previous assessment, the processor was tested with 4800 RAM while operating under a balanced power plan. While these findings are promising, they further underscore the importance of additional benchmark data and testing scenarios to provide a more complete assessment of the processor's performance and capabilities.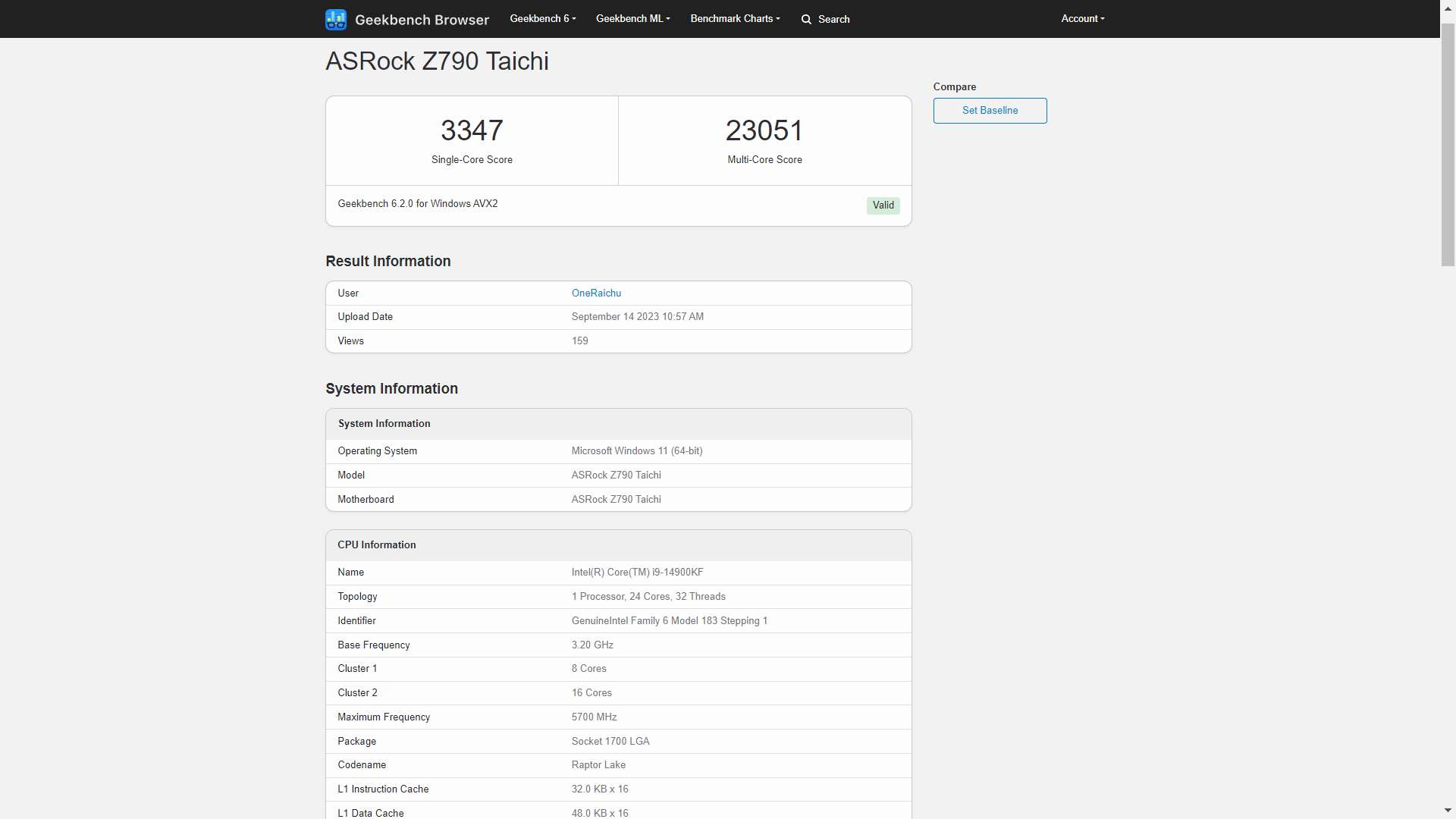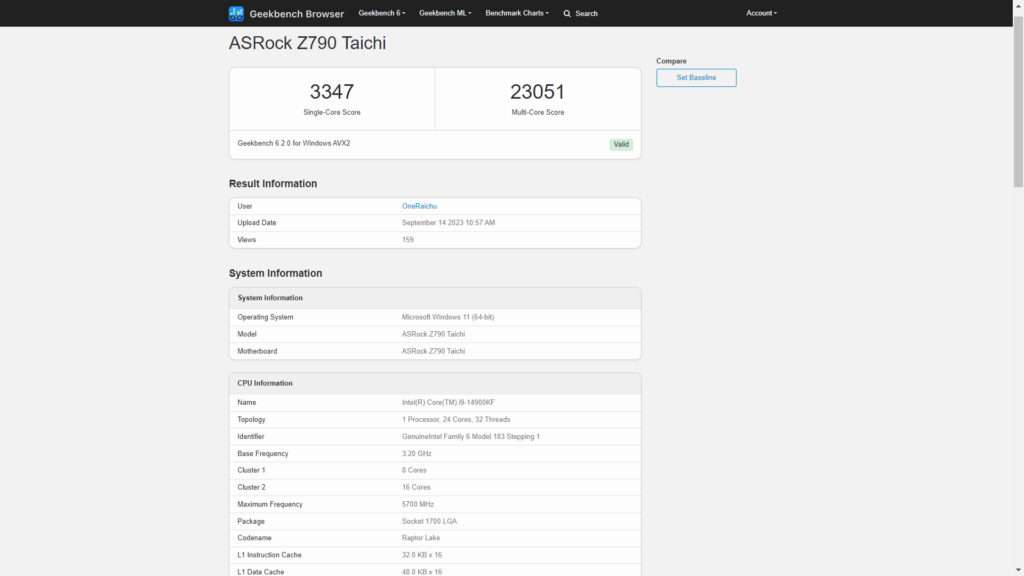 OneRaichu's Geekbench 5 test of the 4900KF processor revealed an intriguing statistic—the CPU achieved a maximum frequency of 5,953MHz, almost touching the coveted 6GHz milestone. This remarkable clock speed highlights the processor's impressive potential for high-performance computing tasks. The 4900KF is equipped with eight powerful performance cores and an additional 16 efficiency cores, making it a versatile choice for a wide range of applications, from gaming to content creation and more.
The 4900KF's performance, as showcased in the Geekbench 5 test, underscores its capacity to handle demanding workloads. With a robust combination of performance and efficiency cores, this processor promises to deliver an excellent balance between power and versatility, catering to the needs of users who require high-performance computing capabilities for various tasks and applications.
Intel has set the stage for the official unveiling of its upcoming CPU series, which is anticipated to take place during the company's annual Innovation event scheduled for September 19 and 20. According to reports, Intel is planning to release a total of six processors on October 17, encompassing both K and KF models spanning from i5 to i9. These processors are expected to cater to a wide range of performance needs and preferences. Additionally, non-K variants with constrained wattage envelopes are projected to make their debut, possibly around the time of CES 2024 in January, offering users alternatives that prioritize power efficiency and thermal considerations.
A substantial leak from MSI has revealed that Intel's 14th generation of processors will be named "Raptor Lake Refresh", signaling a development that appears to be a minor upgrade over the 13th-gen Raptor Lake. The leak suggests that users can expect an average performance improvement of around three percent compared to the previous generation, although the i7-4700K stands out as an outlier with a notable 17 percent performance increase. Despite these relatively modest performance gains, leaked store pricing data indicates a substantial 15 percent price hike compared to the previous generation, which may prompt potential buyers to carefully weigh the value proposition of the upcoming processors.
The leaked information regarding Intel's 14th generation, known as Raptor Lake Refresh, offers an initial glimpse into the expected improvements and pricing. While the overall performance gains are relatively small, the outlier i7-4700K model demonstrates a more substantial increase. The reported price increase for these processors may have an impact on consumer decisions, as they weigh the potential benefits against the added cost when considering an upgrade. This leak provides a starting point for discussions and speculations about Intel's upcoming CPU lineup and how it will fare in a competitive market.
For potential buyers, the most opportune scenario to acquire a Raptor Lake Refresh CPU would be as a replacement for an existing Alder Lake processor. One significant advantage of this new lineup is its compatibility with Intel's current LGA 1700 socket, ensuring that owners of 12th and 13th-generation processors can upgrade their CPUs without the need to invest in a new motherboard. This feature not only simplifies the upgrade process but also potentially saves users a significant amount of money by reusing their existing motherboard and associated components.
The compatibility of Raptor Lake Refresh CPUs with the LGA 1700 socket aligns with Intel's commitment to providing an upgrade path for users, allowing them to enjoy enhanced performance and features without the added cost and complexity of replacing their entire motherboard. This flexibility caters to the needs of users looking to stay current with Intel's CPU offerings while maximizing the value of their existing hardware investments.
For users seeking a more significant performance boost, it may be advisable to exercise patience and wait for the release of Intel's 15th-generation processors, expected to arrive in late 2024. These upcoming processors will usher in a new era of computing and will necessitate the use of new motherboards featuring the LGA 1851 socket, as well as DDR5 RAM. This significant hardware shift indicates that users planning to make a substantial upgrade will need to invest in an entirely new PC build to harness the capabilities of the 15th-generation CPUs.
The forthcoming release of Intel's 15th-generation processors promises a leap in performance and features, but it also brings a shift in hardware requirements. With the adoption of the LGA 1851 socket and DDR5 RAM, users will need to consider a complete system overhaul to take full advantage of these processors. Therefore, for those looking to future-proof their systems and embrace the latest advancements in technology, the anticipation of the 15th-generation CPUs and the associated hardware changes will be a key consideration in their upgrade plans.
You might like other articles?