Spam comments on websites that use the WordPress CMS (Content Management System) are massive. This is because WordPress is an open source system whose code and how it works is certainly known to many people. This is what often makes WordPress users surprised when they find out that there are many SPAM comments on their websites. Even though their website may be new and not yet popular, comments come one after another, and this could be a form of SPAM.
What is the purpose of SPAM comments?
SPAM comments are often used to insert links to websites or products of people who deliberately make SPAM comments. This way they may benefit from free promotions through the comments they do.
What is the effect of SPAM comments on our website?
SPAM comments on our website, including those that use WordPress can have a bad impact on our website in the eyes of search engines. Especially if spam links are related to prohibited things such as firearms and so on.
How to Stop SPAM comments in WordPress?
WordPress as the largest CMS that when used around the world actually already has good enough protection to stop SPAM comments from coming to our Website. Their company Automattic created a plugin called Akismet Spam Protection. This plugin is available from free to paid version. But the free version of this plugin is enough for us to stop SPAM comments that enter through the comment form on the WordPress website.
How do I install and use Akismet?
First you need to login to your WordPress dashboard page in https://domain.com/wp-admin/index.php.
After that you need to click Plugins > Add new menu. Then type "Akismet" in the search field. After the plugin is found click "Install". After the installation process is complete click "Activate".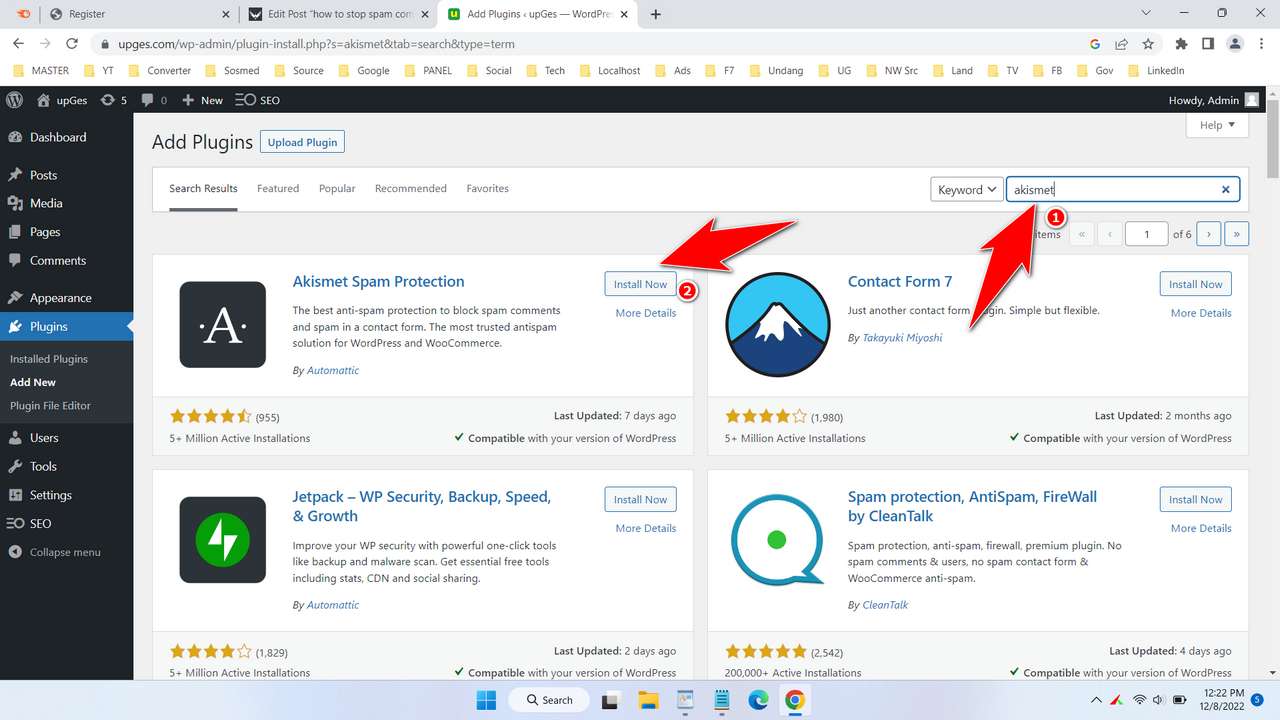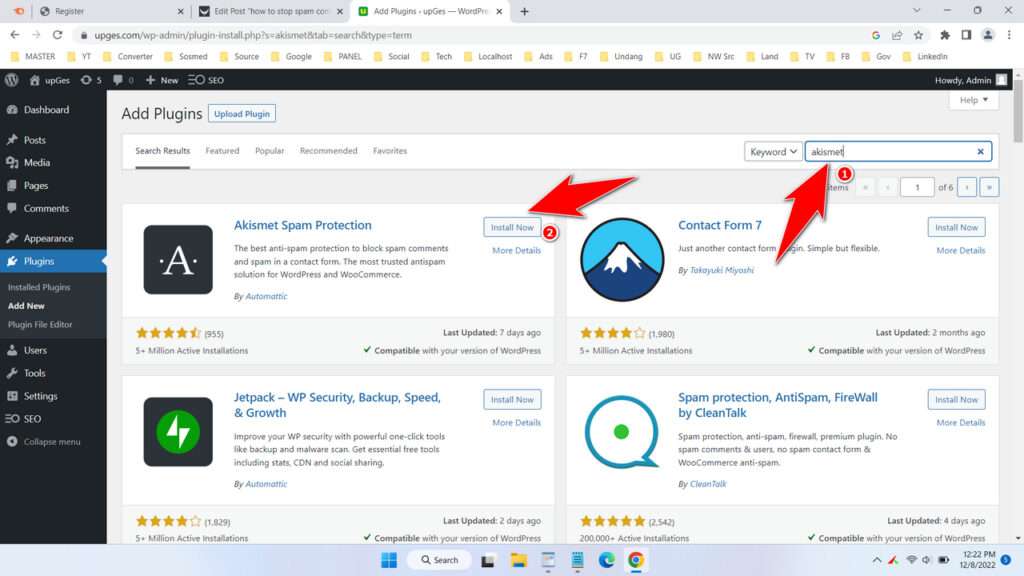 Once your Akismet plugin is active, go to the Plugins > Installed Plugins menu. On the Akismet plugin click on the "Settings" option.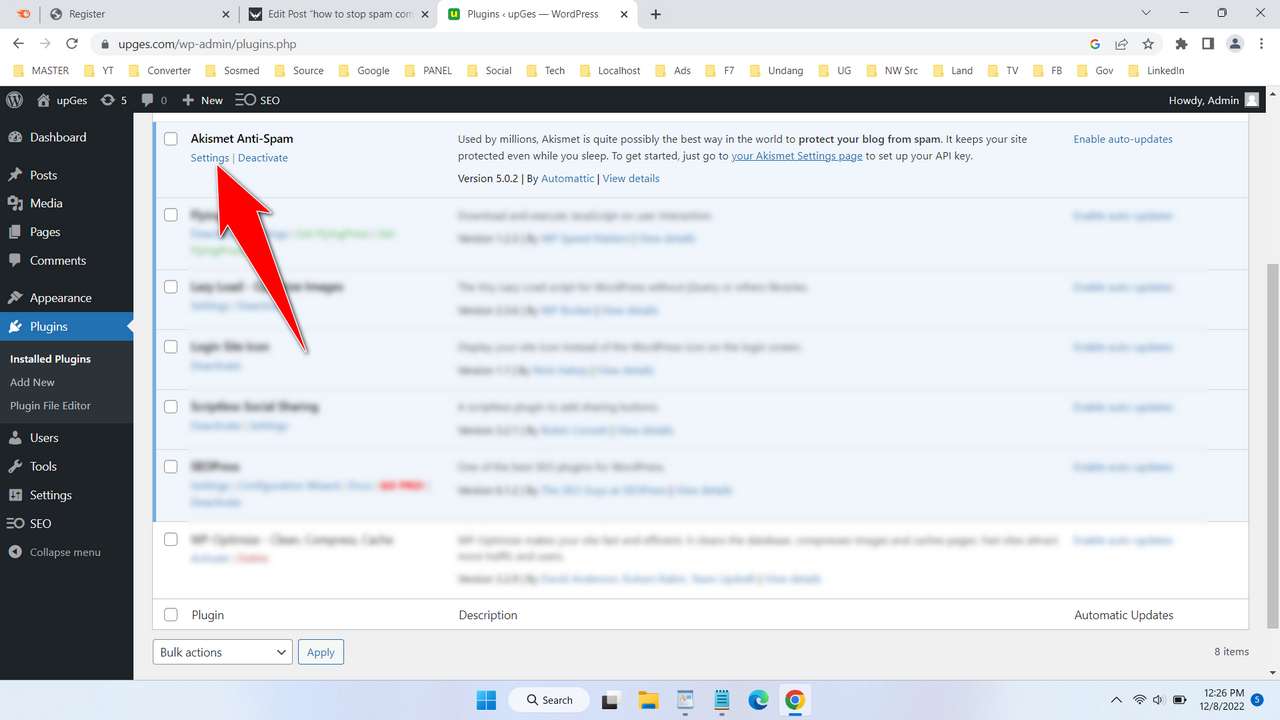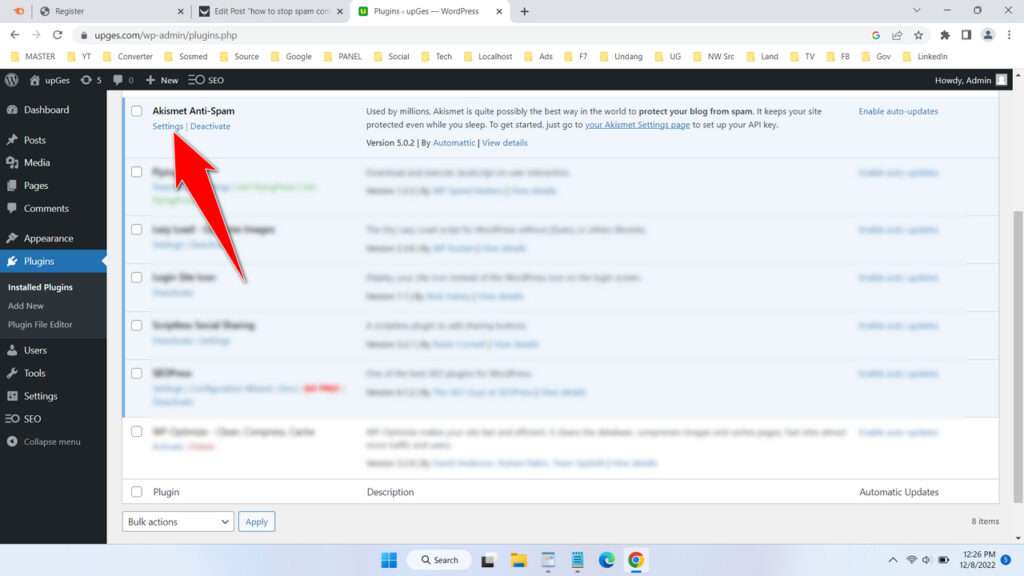 Here you are told to enter the API Key in the "Manually enter an API key" option, but if you have never created it please register by clicking "Set up your Akismet account".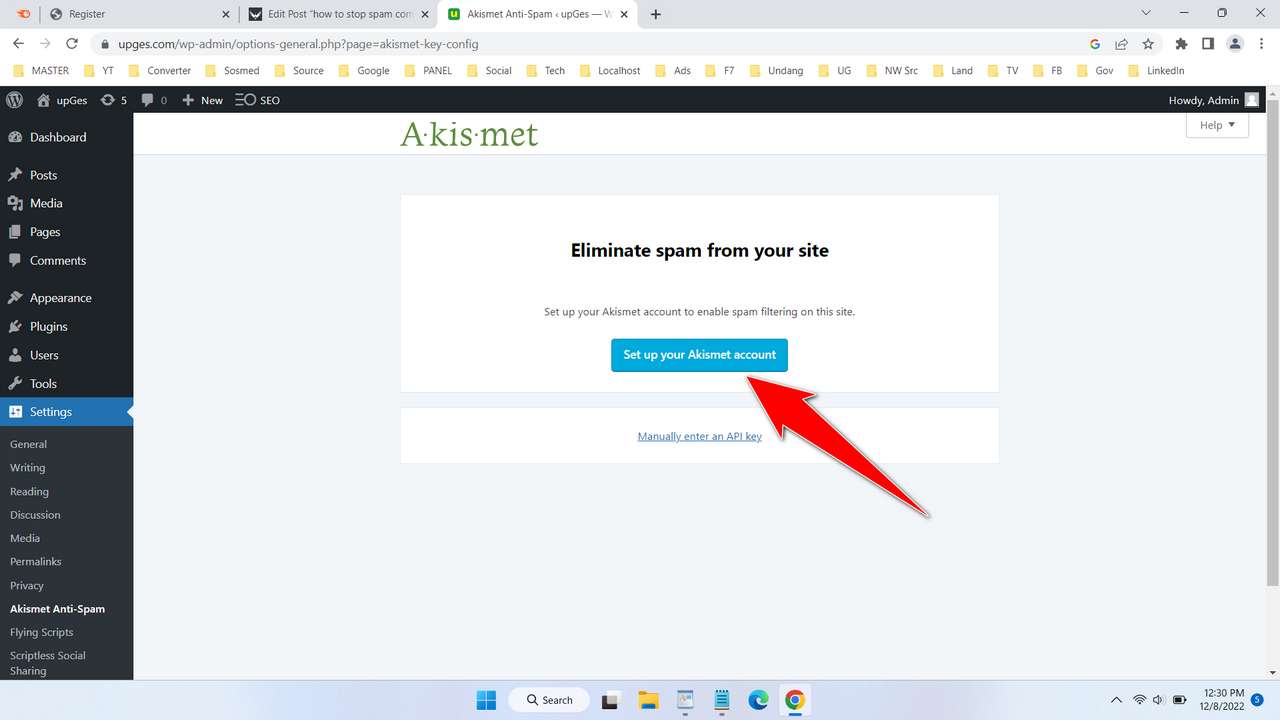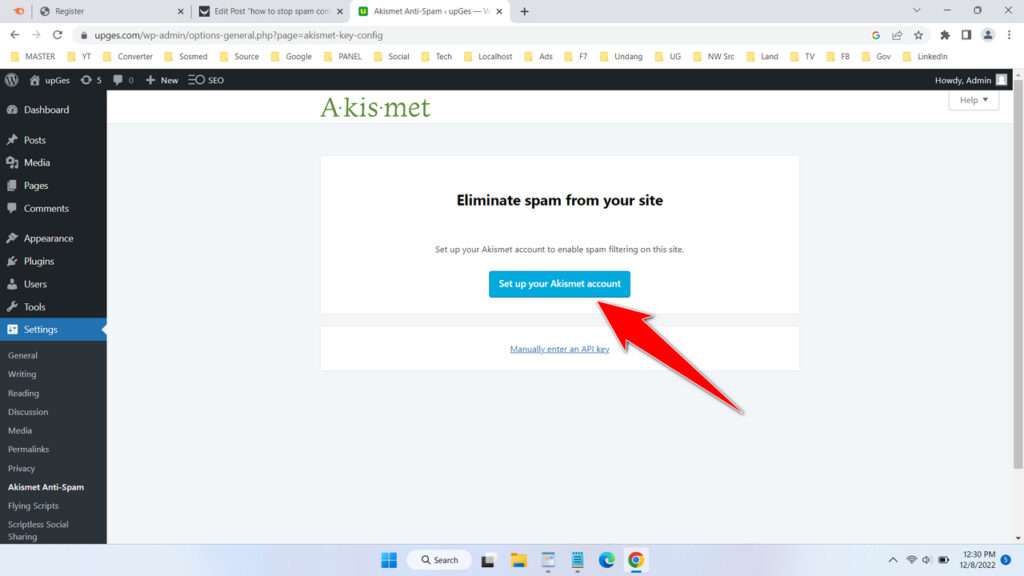 After that you will be taken to the registration page, please select "Personal" option.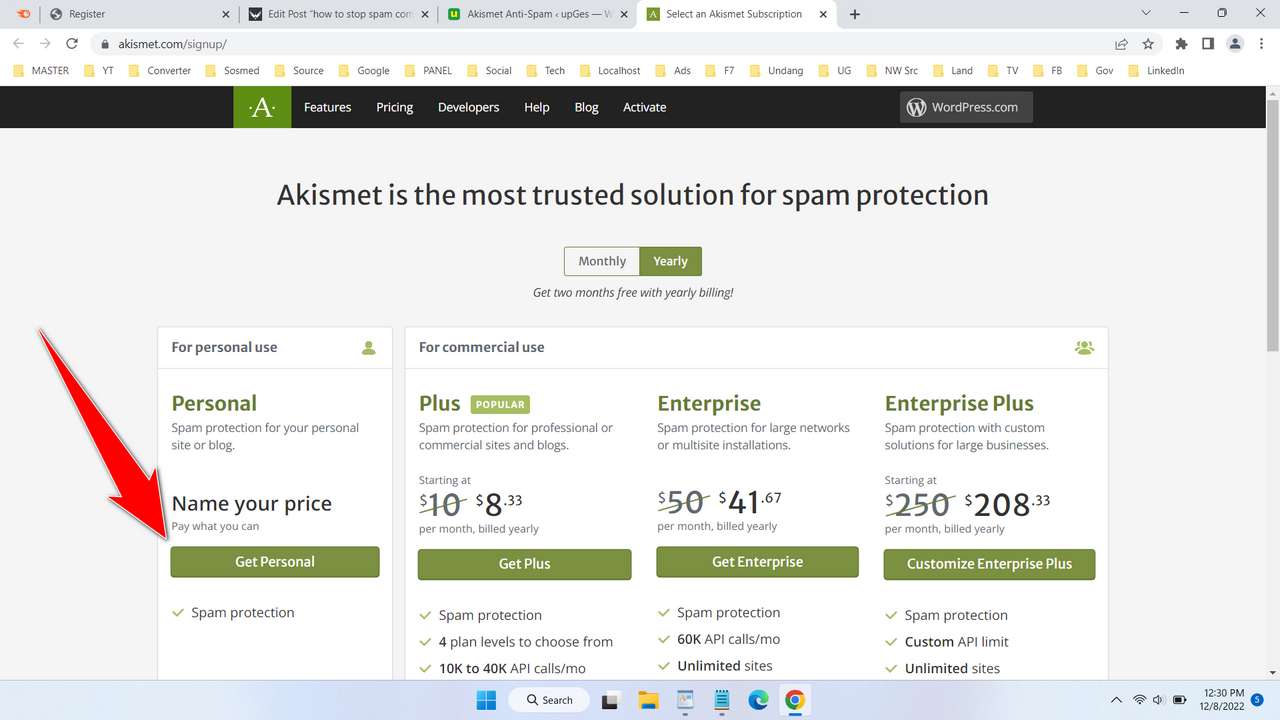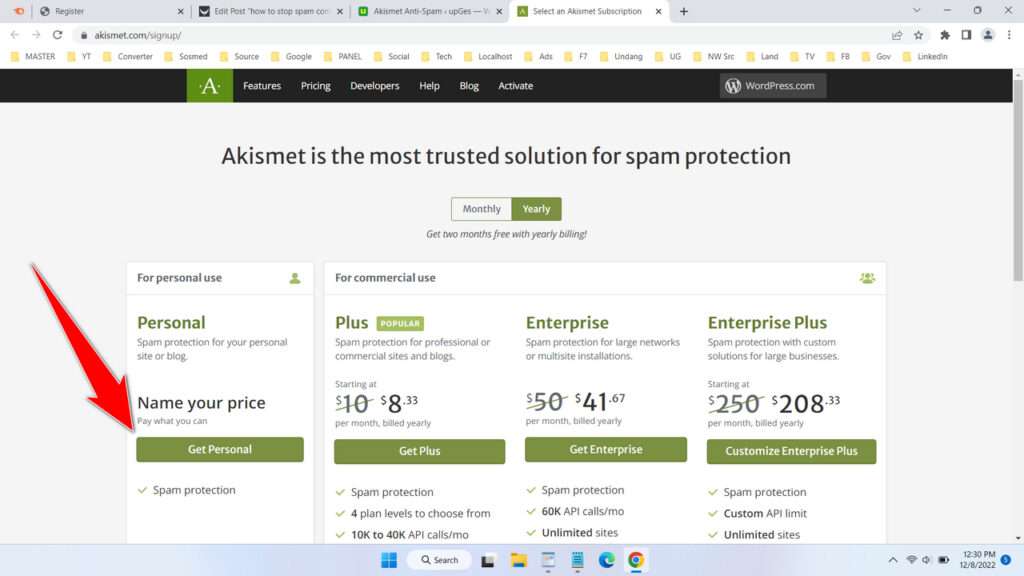 Enter the required data, if you want it free you can also slide the slider to $0. Although this free has no effect on the effectiveness of Akismet in dealing with SPAM. Continue registration by clicking "CONTINUE WITH PERSONAL SUBSCRIPTION".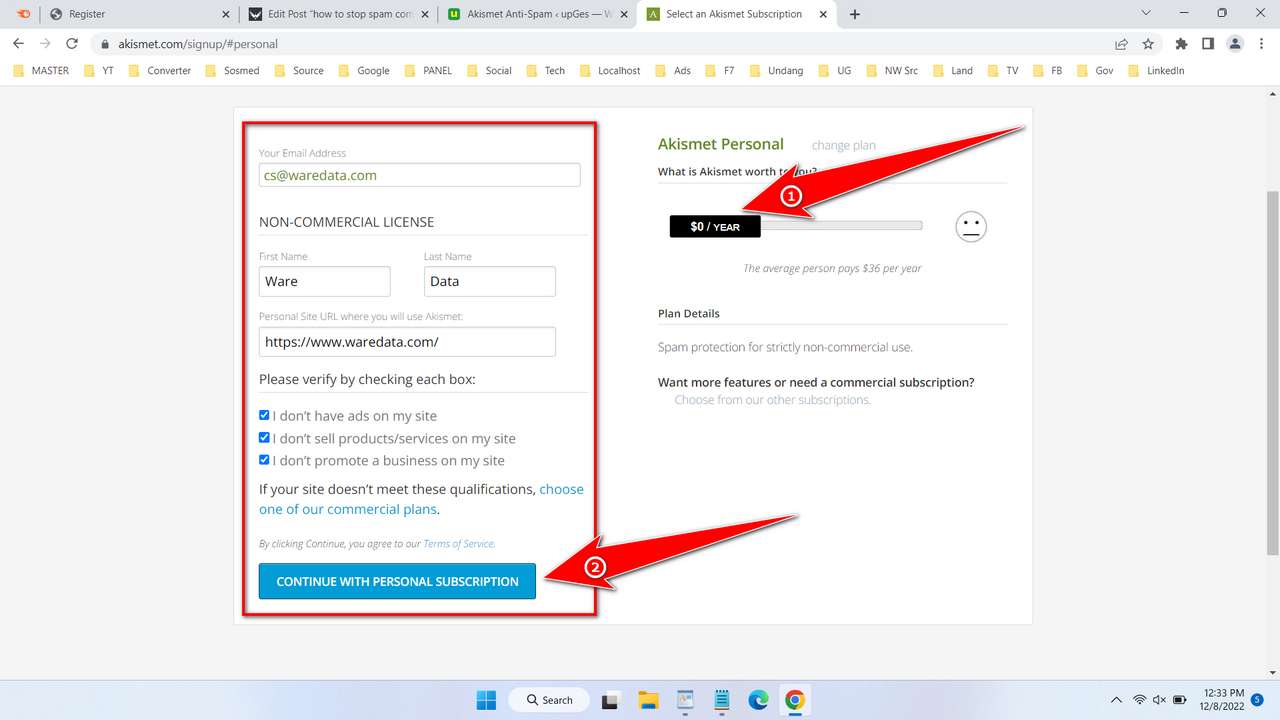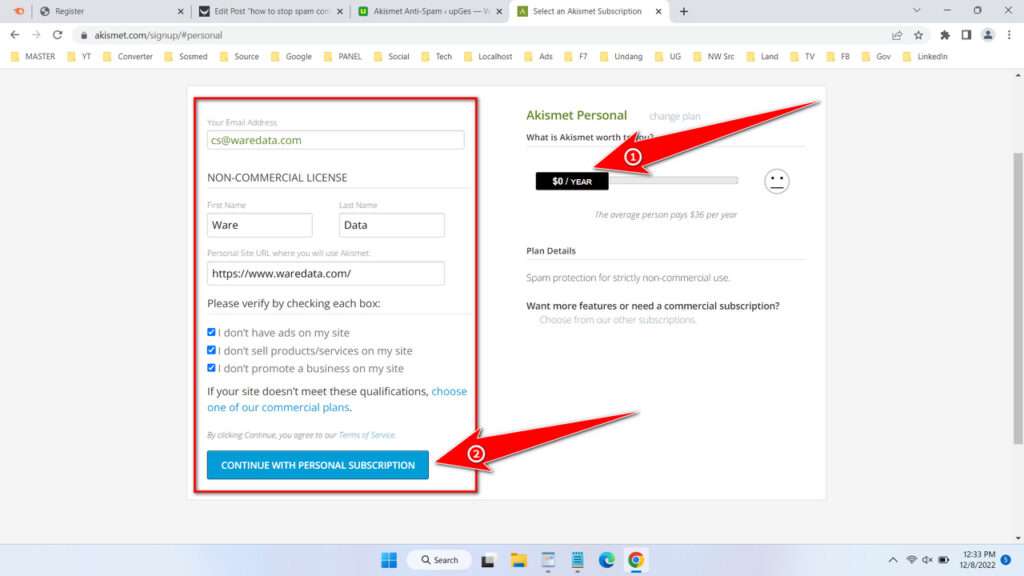 Verify your email, then Akismet will provide an API code for you to insert into the Akismet plugin in your WordPress. This API is sent via email or you can also see it on your Akismet account page.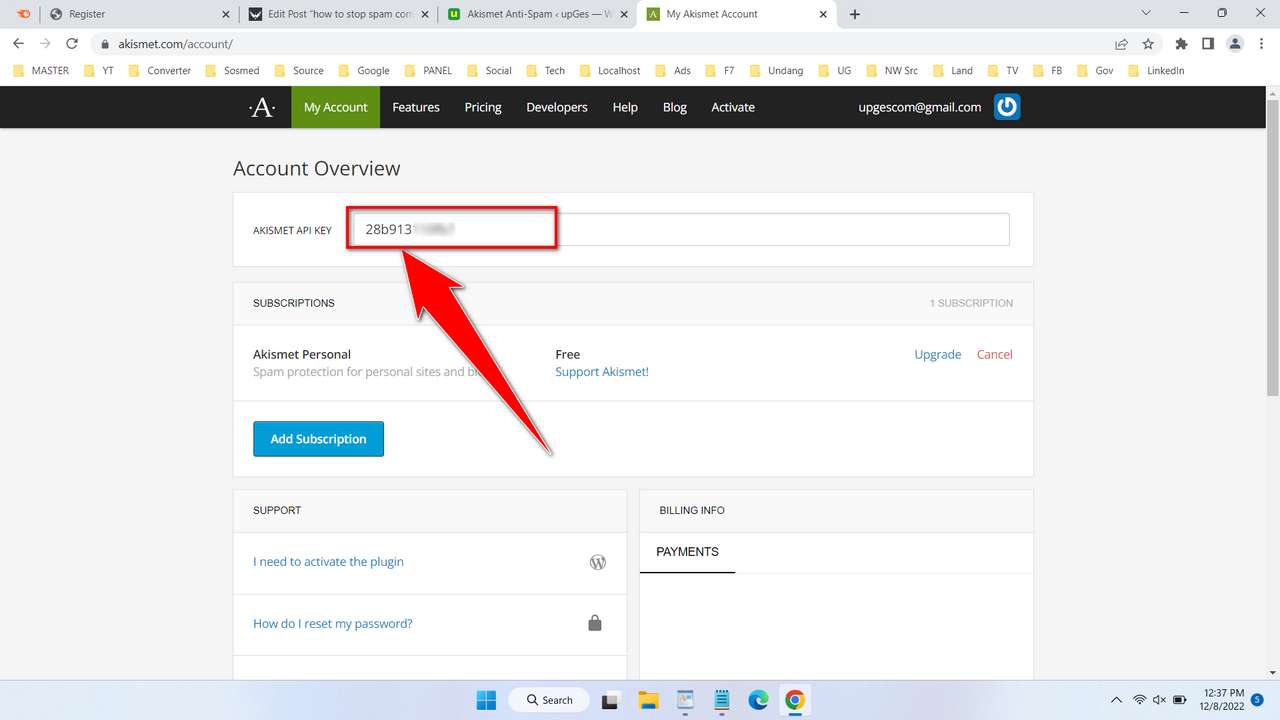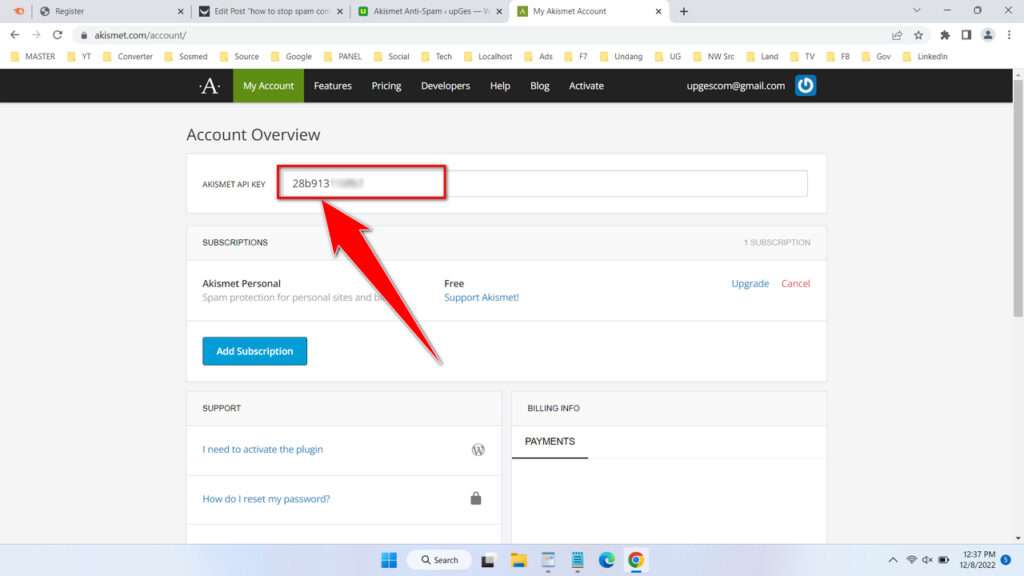 Copy your Akismet API code then you can enter it on your WordPress Akismet settings page. Please click "Manually enter an API key" option.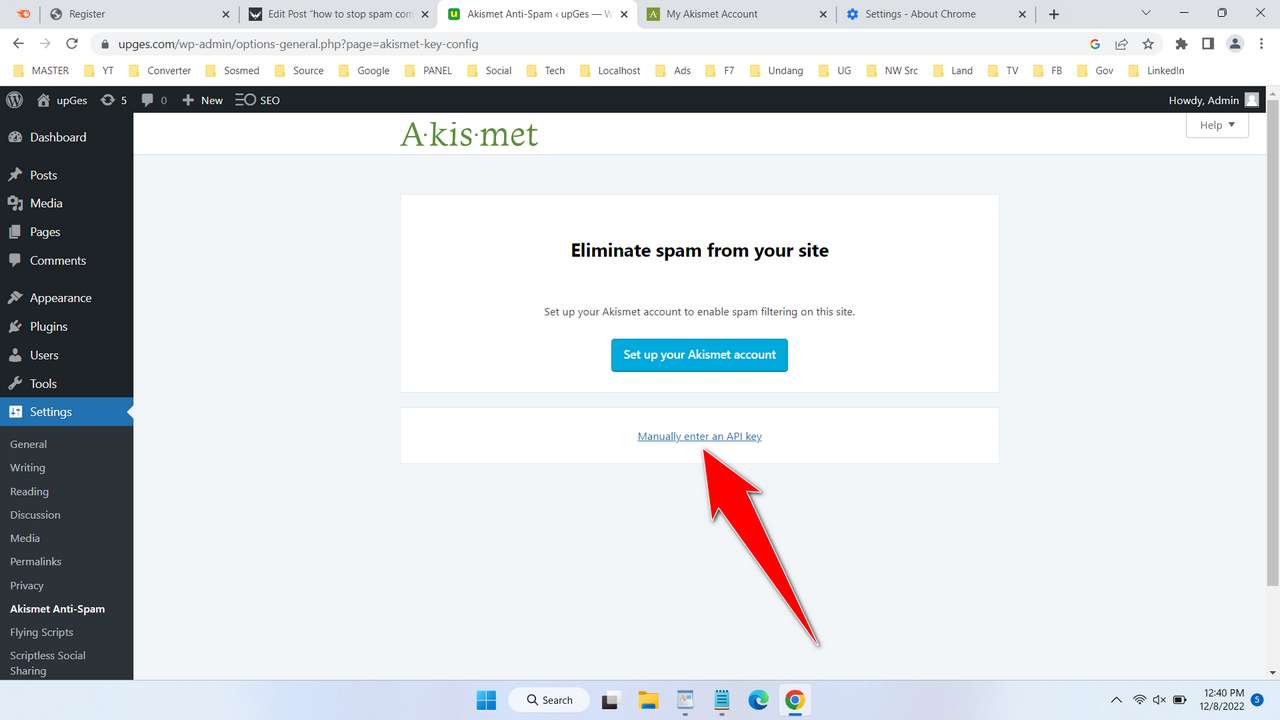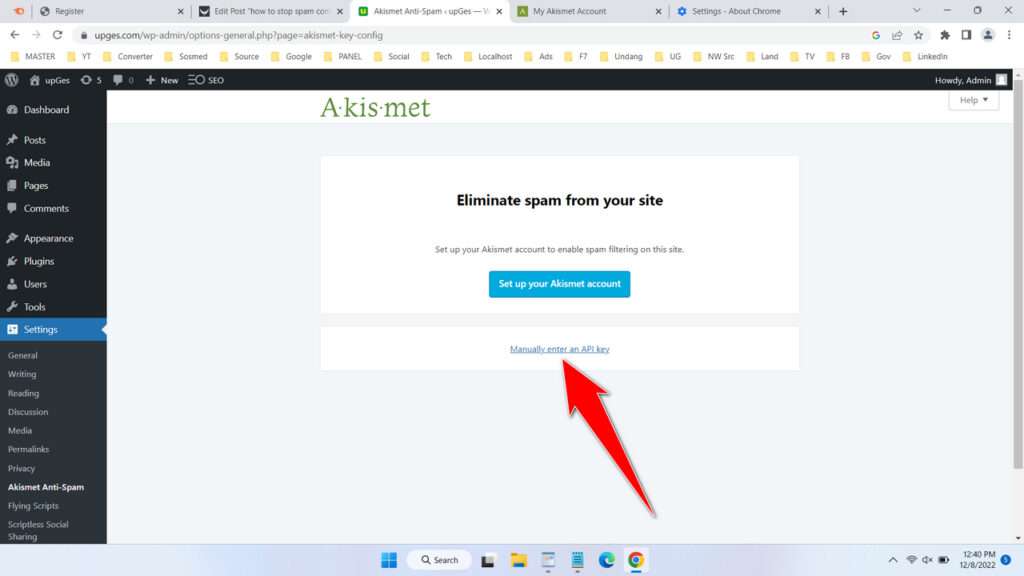 After your API code is entered, please click "Connect with API key" button.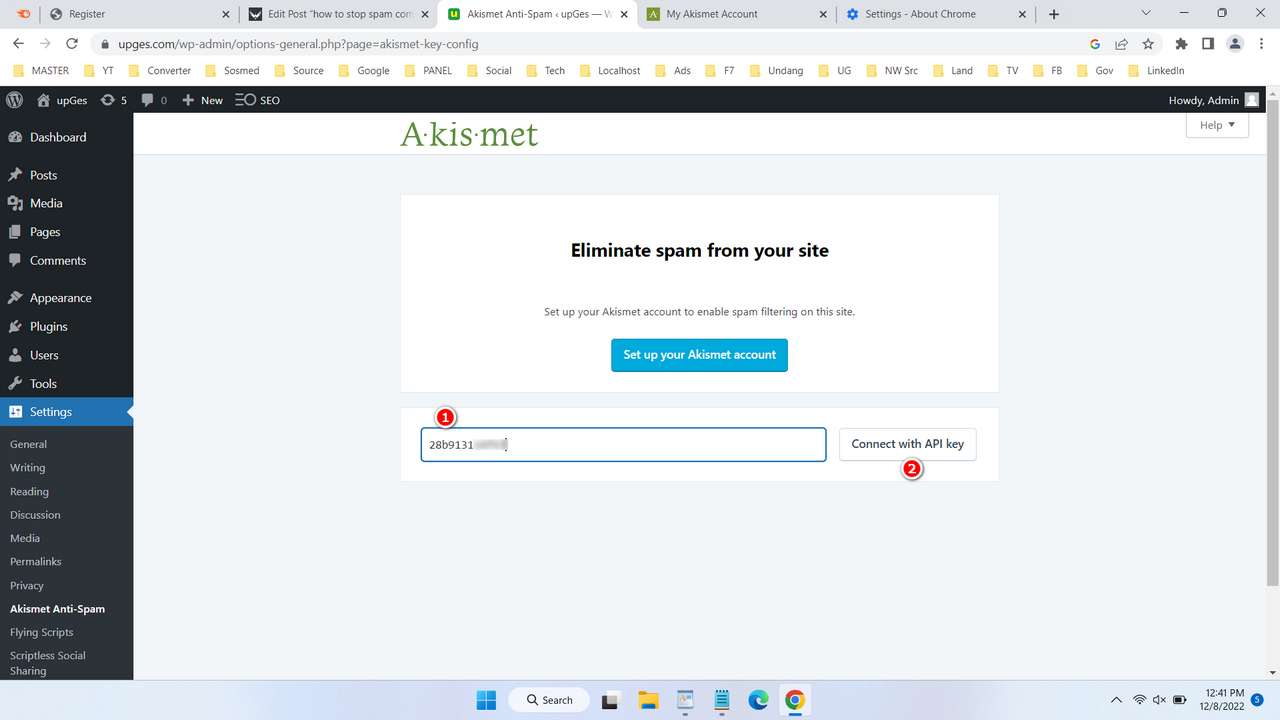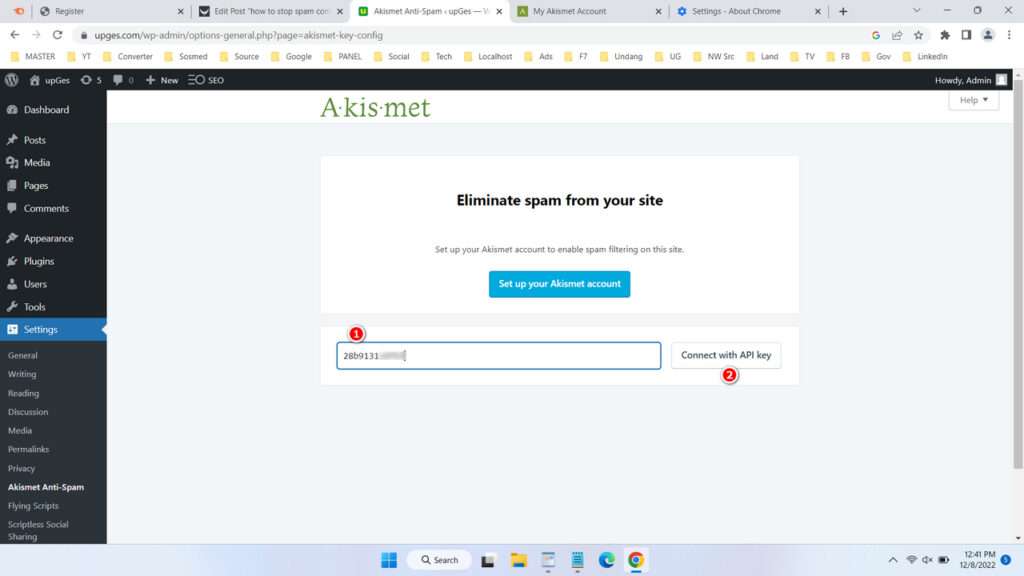 Then you can choose 2 restrictions. First is "Silently discard the worst and most pervasive spam so I never see it", second is "Always put spam in the Spam folder for review". The first option will stop all comments that are considered SPAM and you will never see them on your WordPress dashboard. The second option will put comments that are considered SPAM into the "SPAM" folder, in this second option there is an opportunity for you as WordPress website owners to review comments and approve them if the comments consider are not SPAM and a detection error. I would recommend the former if you are lazy to deal with SPAM comments. When finished you can click "Save Changes".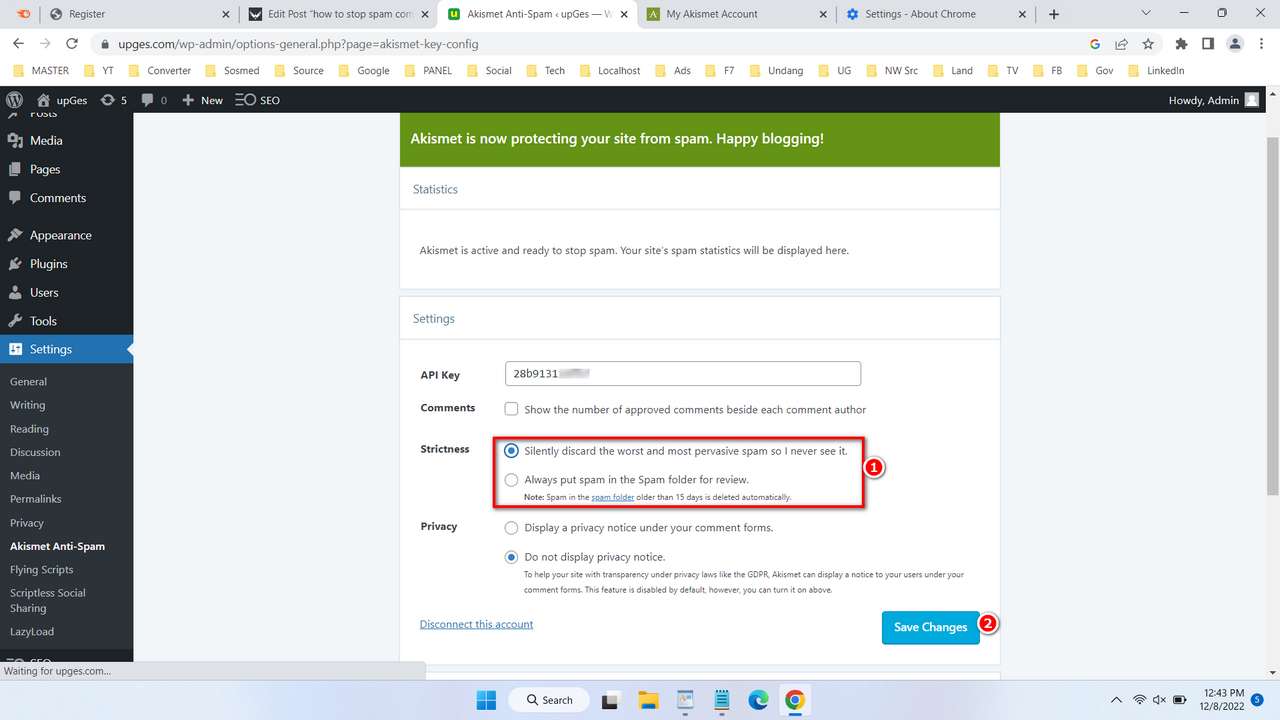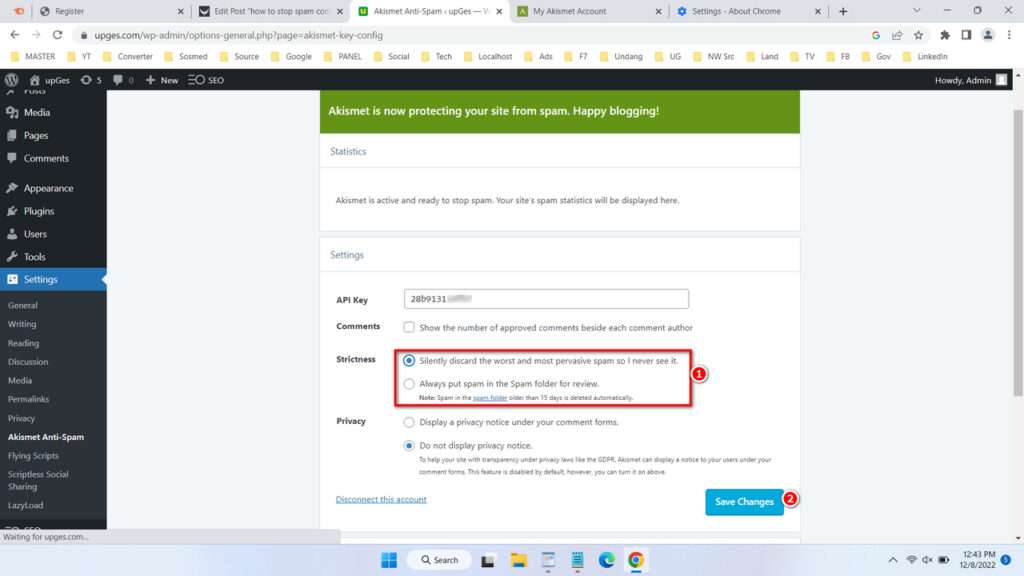 Once you install and configure Akismet, in our experience 99.9% SPAM comments will not return to your WordPress website. You don't even need to worry about your WordPress website's reputation becoming bad because of these SPAM comments.
FAQ
What is Akismet Free plugin?
Yes, you can use the Akismet plugin for free anytime as long as you want. Although free this plugin is very powerful to combat SPAM on WordPress websites.
Why do SPAM comments still go to WordPress?
There are times when someone with a clean account history and ip address enters comments manually, and Akismet thinks this is not SPAM but you may still consider it SPAM.
Why can't I create an Akismet account?
An Akismet account is actually an integral part of WordPress.com account, you may already have an active account with the email address you used to sign up. Here you can try using your other email account.
How to Stop Spam Comments on WordPress in Video
Maybe for those of you who are still struggling how to use Akismet to stop SPAM comments on the WordPress website, you can watch the guide in the following video.