In its latest update, Microsoft Photos rolled out a cutting-edge background blur feature, enhancing the photo editing experience. Building on this innovation, the platform has now introduced a user-friendly feature allowing effortless removal of photo backgrounds or seamless replacement with a different color. This addition empowers users with a simple one-click solution to eliminate the background, providing the option to either save the edited image or conveniently copy it to the clipboard for further use.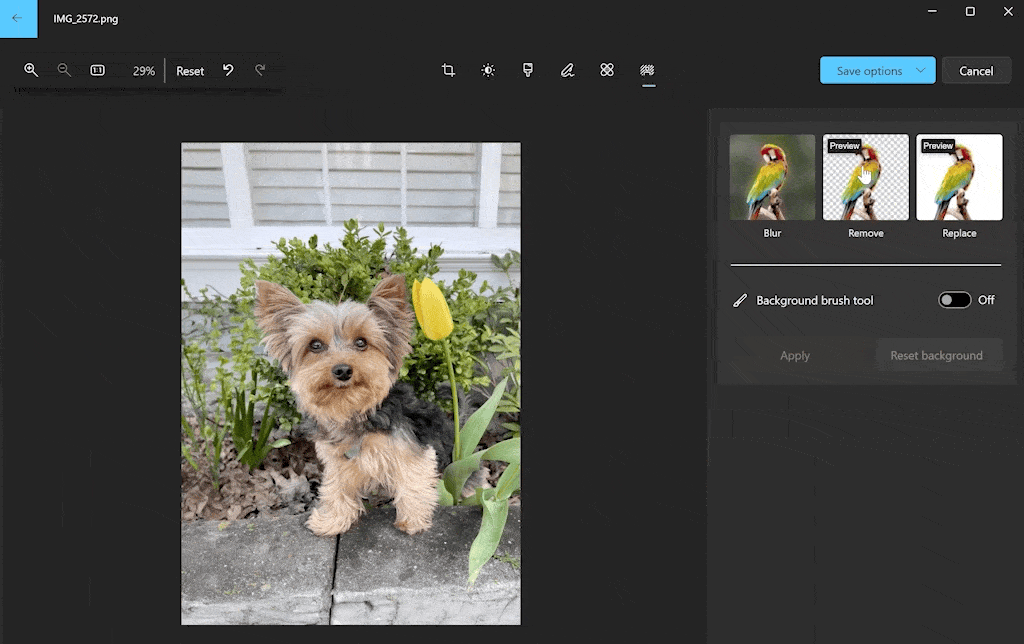 To further enhance customization, users have the option to replace the selected background with a solid color within Microsoft Photos. This feature allows for a personalized touch, offering a seamless way to transform the visual appeal of your photos. The color picker tool simplifies the process, enabling users to choose the perfect hue effortlessly. Whether it's through a simple click on the palette, entering a specific hex color code, or adjusting RGB values, the flexibility provided ensures that users can precisely achieve their desired background color. This intuitive approach to background replacement adds an extra layer of creativity to the editing experience, catering to users seeking a polished and unique aesthetic in their photos.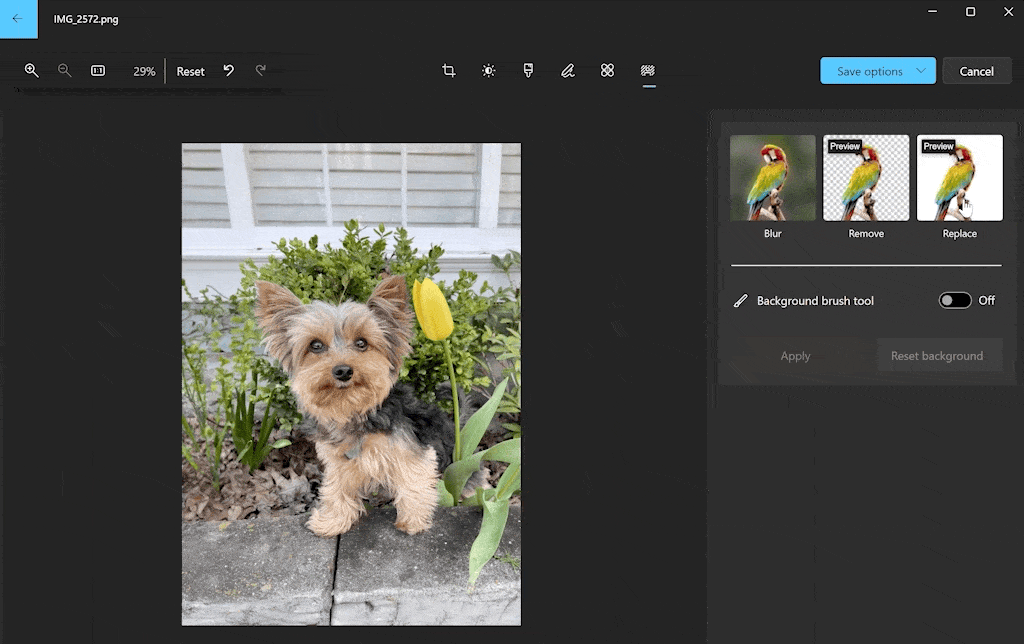 Filmstrip New Features
Microsoft Photos has introduced a redesigned Filmstrip experience based on user feedback, aiming to enhance the efficiency of photo browsing and selection. In response to user input, the default setting now has the Filmstrip turned off when opening a photo. Users can easily activate the Filmstrip by either pressing the "F" key or clicking on the designated icon located in the bottom left corner of the interface.
The Filmstrip is now positioned below the photo, featuring enlarged thumbnails for better visibility. Additionally, a larger scrollbar at the bottom has been added, enhancing navigation and making it more user-friendly for selecting the desired photo. These improvements contribute to an overall more intuitive and accessible Filmstrip experience within Microsoft Photos.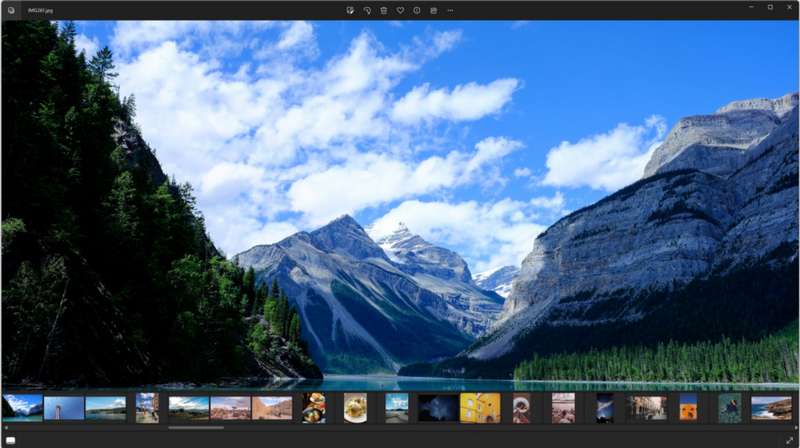 Timeline Scrollbar New Features
Microsoft Photos has implemented a significant enhancement by introducing the Timeline Scrollbar to all folders. This addition aims to provide users with a dynamic and efficient means of navigating through their photo collections. The Timeline Scrollbar adapts to the time range of your photo collection, offering a visual representation of the chronological order of your photos. This dynamic feature empowers users to seamlessly locate specific photos based on their temporal context, streamlining the browsing experience and making it easier to find and manage photos across various folders.
By integrating this dynamic tool across all folders, users now have a unified and intuitive way to navigate through their photos based on the time range, ultimately enhancing the efficiency of managing and retrieving images within the application.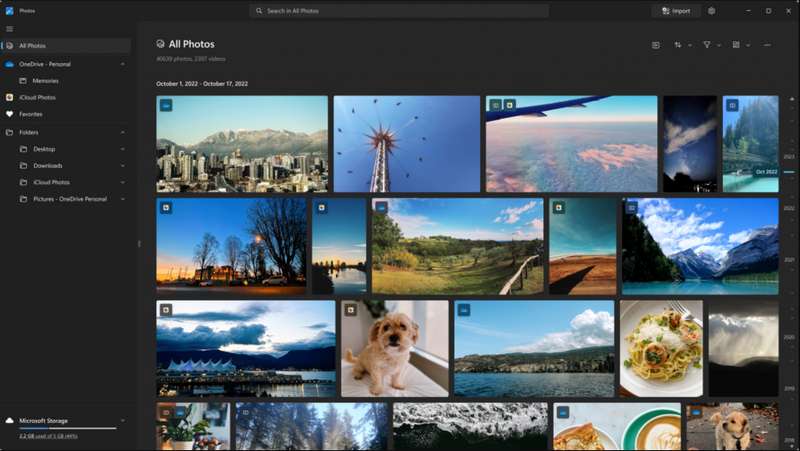 Share to Onedrive
Microsoft Photos has introduced a convenient sharing feature for photos backed up on OneDrive, expanding the platform's functionality. Users can easily share a photo by right-clicking on the image and selecting the "Share" option, specifically choosing to utilize OneDrive. This streamlined process provides users with the flexibility to share photos effortlessly. Upon selecting the OneDrive option, users have the choice to send the generated link via email or copy it to the clipboard, catering to various communication preferences. This addition simplifies the sharing experience and ensures that users can seamlessly distribute their backed-up photos to others.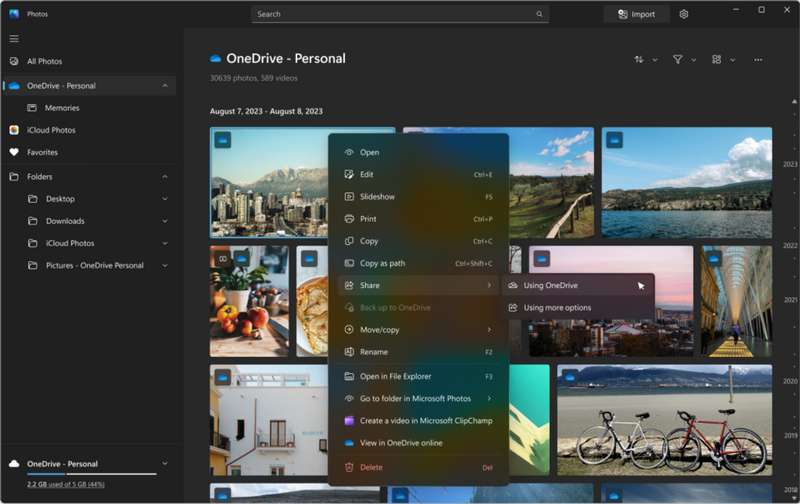 Improvements
In response to valuable community feedback, Microsoft Photos has implemented user-friendly enhancements to streamline the printing process. The Print button has been strategically relocated to the top command bar, making it more accessible when viewing a single image. This adjustment simplifies the printing experience for users, providing easy access to the necessary tools. Additionally, Microsoft Photos has introduced a 7:5 aspect ratio option in the Resize tool, offering users greater flexibility in customizing the dimensions of their photos. These updates cater to user preferences and contribute to a more intuitive and efficient photo editing and printing experience within the application.
Furthermore, Microsoft Photos has prioritized performance and stability with a series of updates. These improvements encompass the Slideshow feature, enhancing its overall functionality. Navigation between tabs and the process of opening images have also undergone enhancements to ensure a smoother and more responsive user experience. By addressing these performance and stability aspects, Microsoft Photos continues to refine its capabilities, providing users with a more reliable and enjoyable platform for managing and editing their photo collections.
How to Get this New Features?
To access the latest features in Microsoft Photos, ensure that your app is updated to version number 2023.11110.8002.0 or a higher iteration. This update is currently in the process of rolling out to Windows Insiders across all channels. By staying up-to-date with the latest version, users can take advantage of the newly introduced enhancements, including a redesigned Filmstrip experience, dynamic Timeline Scrollbar, and improved sharing capabilities through OneDrive. Keeping the app updated not only ensures access to the latest features but also contributes to a more seamless and optimized user experience within Microsoft Photos.
If you're a Windows Insider, you can expect to receive these updates as part of the ongoing rollout across all channels. Microsoft remains committed to refining and expanding the capabilities of its Photos app, and by participating in the Windows Insider program, users can be at the forefront of testing and experiencing these advancements before they are released to the wider public. Stay tuned for a more enriched and feature-packed photo-editing experience by keeping your Photos app up-to-date with the latest version.
Maybe there are other articles you liked?