Meta's Mark Zuckerberg has made an exciting announcement regarding WhatsApp. Now, users have the capability to seamlessly use two WhatsApp accounts on a single device. This functionality makes it incredibly convenient to switch between your work and personal life, as well as manage different social circles. It's a feature that mirrors the ability to juggle between two Instagram accounts, offering users greater flexibility in their online interactions. The development of this feature has been ongoing since June, and it was recently spotted in a WhatsApp for Android beta update, indicating that it will soon be available to a wider audience.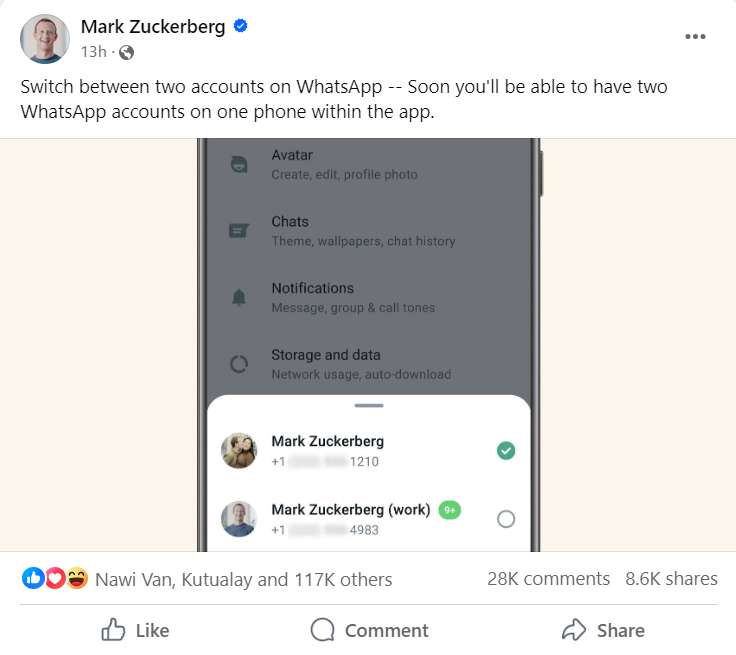 To effectively use two WhatsApp accounts on a single device, there are some essential requirements. Firstly, you'll need two active phone numbers, each associated with a working SIM card. This means you can seamlessly manage two distinct WhatsApp accounts on the same device, which can be incredibly useful for keeping your personal and work communications separate or catering to different social groups. With the introduction of this new feature, you'll notice a convenient 'Add Account' option located alongside your name within the Settings menu. This addition simplifies the process of setting up and managing the dual accounts, enhancing the overall user experience.
How to Setting Two WhatsApp in One Device?
To set up your secondary WhatsApp account, you can simply tap on the 'Add Account' option. Once selected, you'll be prompted to register the secondary account, which involves authenticating using an OTP. Additionally, the option to use a Passkey is currently rolling out and will soon be available to all users. The process is straightforward, and you'll need to follow the on-screen steps provided to successfully complete the setup.
This user-friendly approach simplifies the registration of the secondary account, making it accessible and convenient for all users. By following these on-screen instructions, you can quickly and effortlessly create a secondary WhatsApp account, enhancing your ability to manage different aspects of your online communications. This feature caters to the diverse needs of users, ensuring a seamless experience when juggling multiple WhatsApp profiles on a single device.
With the introduction of the multi-account WhatsApp feature, users can look forward to tailored privacy and notification settings for each of their WhatsApp accounts. This customization allows users to choose settings that align with their preferences and needs for each account. Android users can anticipate the rollout of this feature in the coming months, offering them the flexibility and convenience of managing multiple WhatsApp accounts on a single device. While Android users will soon enjoy these benefits, there's no specific information available yet regarding the release timeline for iOS users. However, this development represents a significant step forward in enhancing the WhatsApp user experience, particularly for those who rely on multiple accounts for various aspects of their personal and professional lives.
This new feature marks a significant step forward for WhatsApp users, as it simplifies the management of multiple accounts and communication needs. It allows for greater versatility and ease of use in navigating the different aspects of one's life, whether personal or professional, all within a single device. With this update, Mark Zuckerberg and Meta are providing users with more control and convenience, making the WhatsApp experience even more user-friendly and adaptable to various lifestyle demands.
You can see Mark Zuckerberg's post about this new feature on WhatsApp and the various responses of people who like it a lot here, on his Facebook account.
Maybe you liked other articles?