Microsoft delighted Windows users by announcing the official release date for the highly anticipated Windows 11 23H2 update, also known as Moment 4. The good news is that you won't have to wait long, as this update is set to start rolling out to the general public on September 26. What makes this release particularly exciting is the integration of AI-powered features into Microsoft's native apps on Windows 11, many of which have already been tested extensively on Insider builds. One standout addition with the 23H2 update is the introduction of a unified Copilot tool to Windows 11, promising enhanced functionality and productivity. For a comprehensive overview of what to expect from the Moment 4 update, continue reading.
The 23H2 build of Windows 11 introduces a highly anticipated feature, now simply called "Copilot". This native AI-powered integration is garnering significant attention for its versatility, as it can be accessed throughout the entire operating system, extending beyond the confines of web browsers. Copilot seamlessly integrates with a wide range of applications, including Microsoft 365, Edge, Outlook, Teams, Bing, and even the desktop environment. Users have the flexibility to access Copilot through a right-click on any interface or by utilizing voice commands, making it a powerful and accessible tool for enhancing productivity.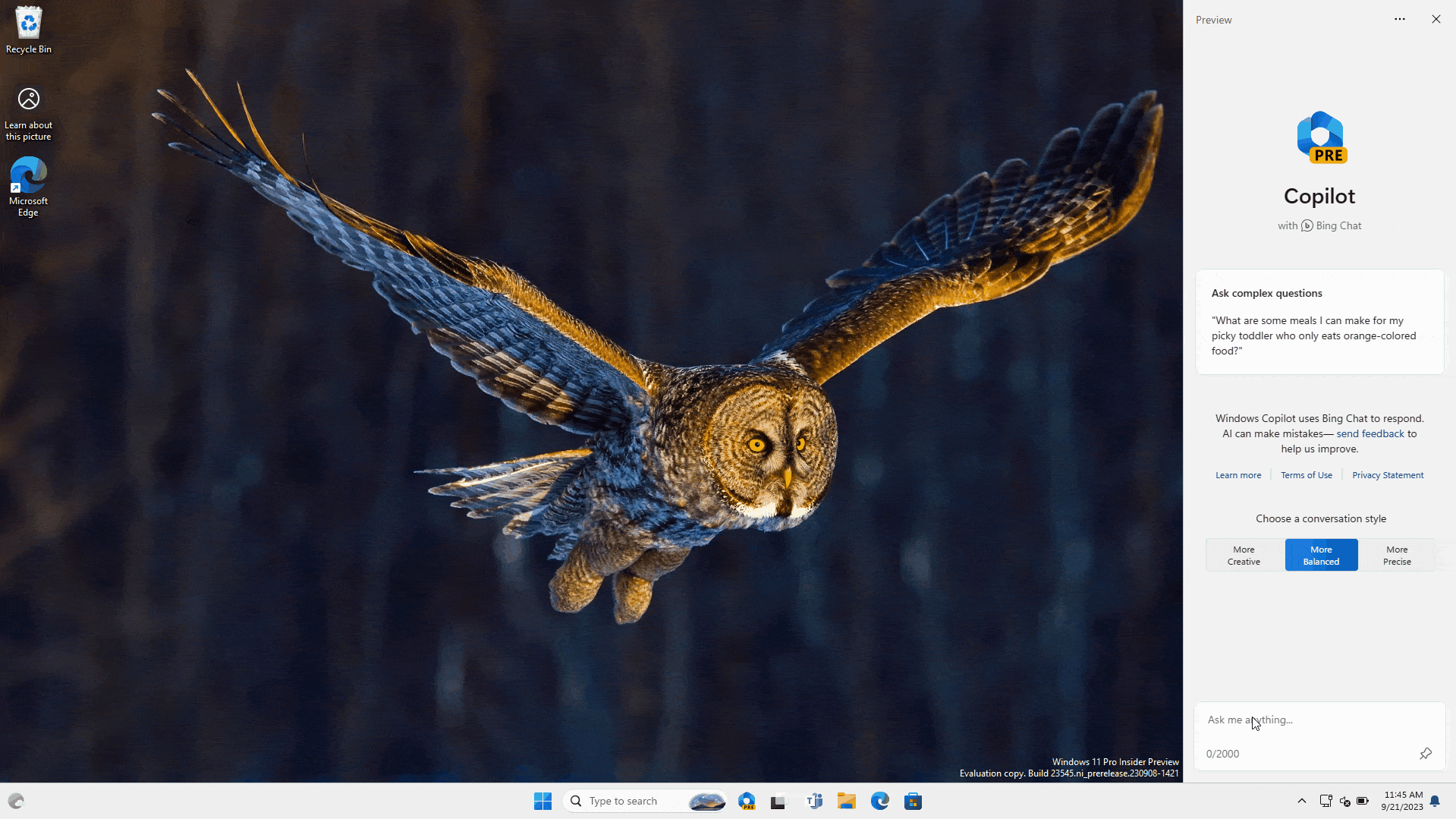 One of Copilot's remarkable capabilities is its compatibility with touchscreen Windows devices through the Ink Anywhere feature, allowing users to input handwritten text directly into text fields using a stylus, even when the writing is intricate or complex. Yet, Copilot's appeal doesn't stop there, it offers a significant advantage by working seamlessly across your different devices. This deep integration extends to tasks such as retrieving data from your smartphone and sending text messages, all achieved with effortless commands. The ability of Copilot to bridge the gap between devices enhances productivity and connectivity within the Windows ecosystem, making it a valuable asset for users.
With the introduction of the 23H2 update, Copilot brings a new level of convenience to Windows 11 users. Notably, it allows for the execution of various OS-level actions simply by using natural language prompts. Whether you want to activate Do Not Disturb (DND), switch to dark mode, capture a screenshot, or perform numerous other tasks, Copilot has you covered. This comprehensive functionality essentially means that, with the 23H2 update, Copilot takes over the role previously held by Cortana, offering a more seamless and intuitive way to interact with your Windows 11 operating system.
The Windows 11 23H2 update brings a host of exciting enhancements to the user experience. Firstly, the revamped Snipping Tool is now equipped with built-in OCR (Optical Character Recognition) technology, making it easier than ever to extract text from screenshots seamlessly. Additionally, users can look forward to a redesigned File Explorer that incorporates more modern components, such as the Home and Gallery View, as well as seamless integration with OneDrive for enhanced file management. Moreover, Moment 4 introduces native support for a variety of archive formats, including RAR, 7Z, TAR.GZ, and more, simplifying the process of working with compressed files.
The Windows 11 23H2 update introduces a range of AI-powered features designed to enhance the user experience. Among these enhancements is the new Photos app, which now boasts AI-powered background blur functionality. This feature adds a professional touch to your photos, allowing you to create stunning visuals with ease. Additionally, there are ongoing tests for Ms Paint, which include the implementation of layers support, indicating further advancements in graphic editing capabilities. These changes collectively demonstrate Microsoft's commitment to integrating AI technology into various system apps, setting the stage for even smarter and more intuitive experiences with Windows 12 in the future.
Maybe you liked other articles too?